This post contains a collection of 15 simple Paleo snack ideas for kids (and adults). These are my go-to healthy snacks of the year (currently year 2020). These easy Paleo snacks are great for the summer, school lunches or packing up and bringing on-the-go.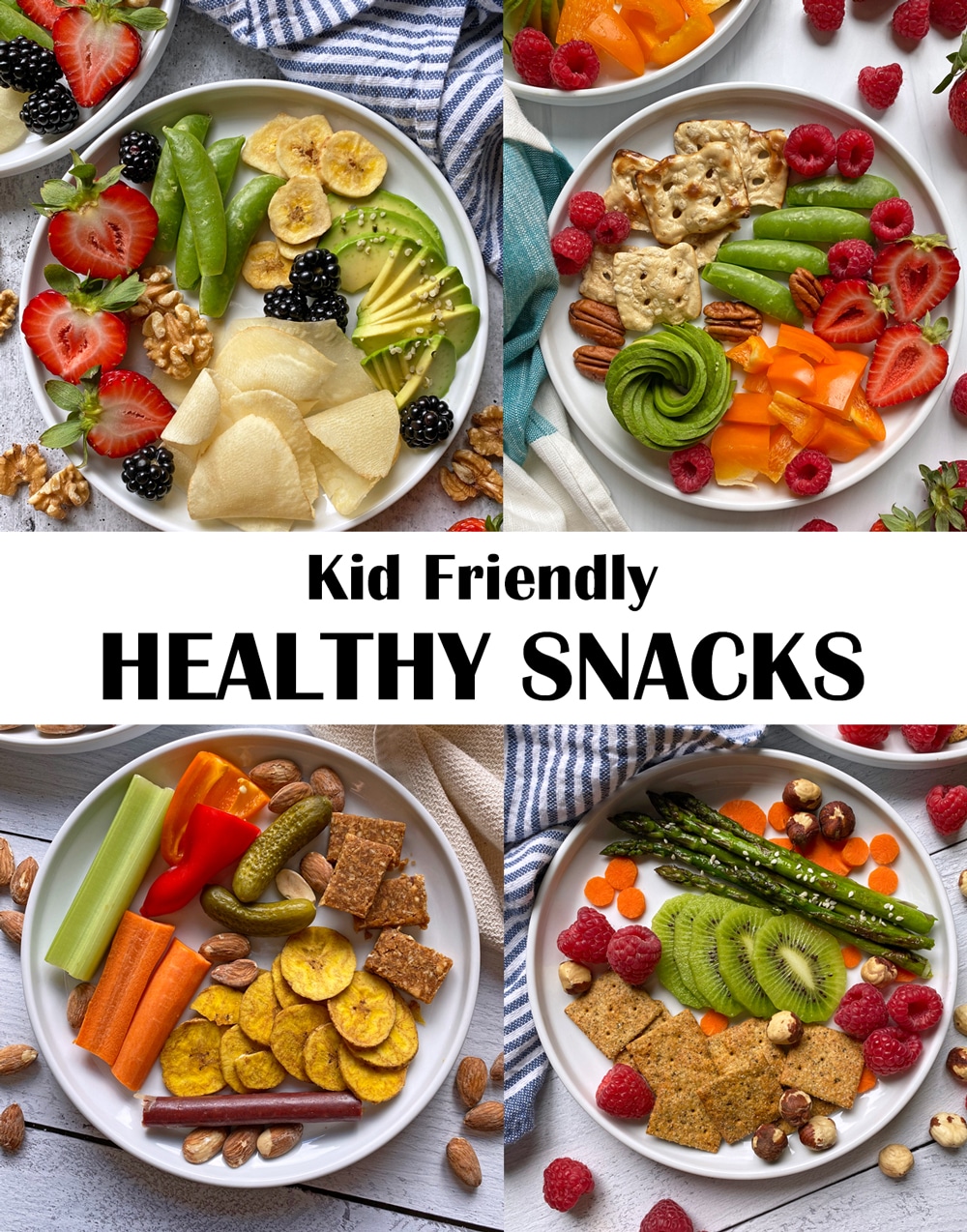 Let's talk snacks.
When it comes to snacks, I feel like a pro. Only because my kids feel the need to eat every couple hours.
But trust me when I say it wasn't always that way. Nope. I used to struggle with what Paleo foods to feed my kids.
Now, my kids don't eat 100% Paleo, but more often than not their meals and snacks include primarily Paleo foods.
In order to help you all with snack and meal ideas for feeding your own kids (or yourself), I've come up with a collection of 15 different Paleo snack plates. These aren't just individual snacks, but healthy, well-rounded plates featuring a variety of foods.
Snack Goals
With each snack that I prepare for my kids, I have a few specific goals in mind. I want each plate to be:
healthy
quick, easy to prepare
contain fats, carbs and protein (usually)
have variety and color
Because one of my goals is to have quick, easy to prepare snacks, none of these ideas include Paleo snack recipes (as in things you have to make and bake). All of these items are Paleo snacks to buy; either purchased in store or on Amazon.
Although most of these snacks are presented on plates, they can be packed up in a lunch box or container and eaten on-the-go.
Hopefully, these ideas will provide you with some fun snack inspiration that your kids will love and you can feel good about feeding them!
Snack 1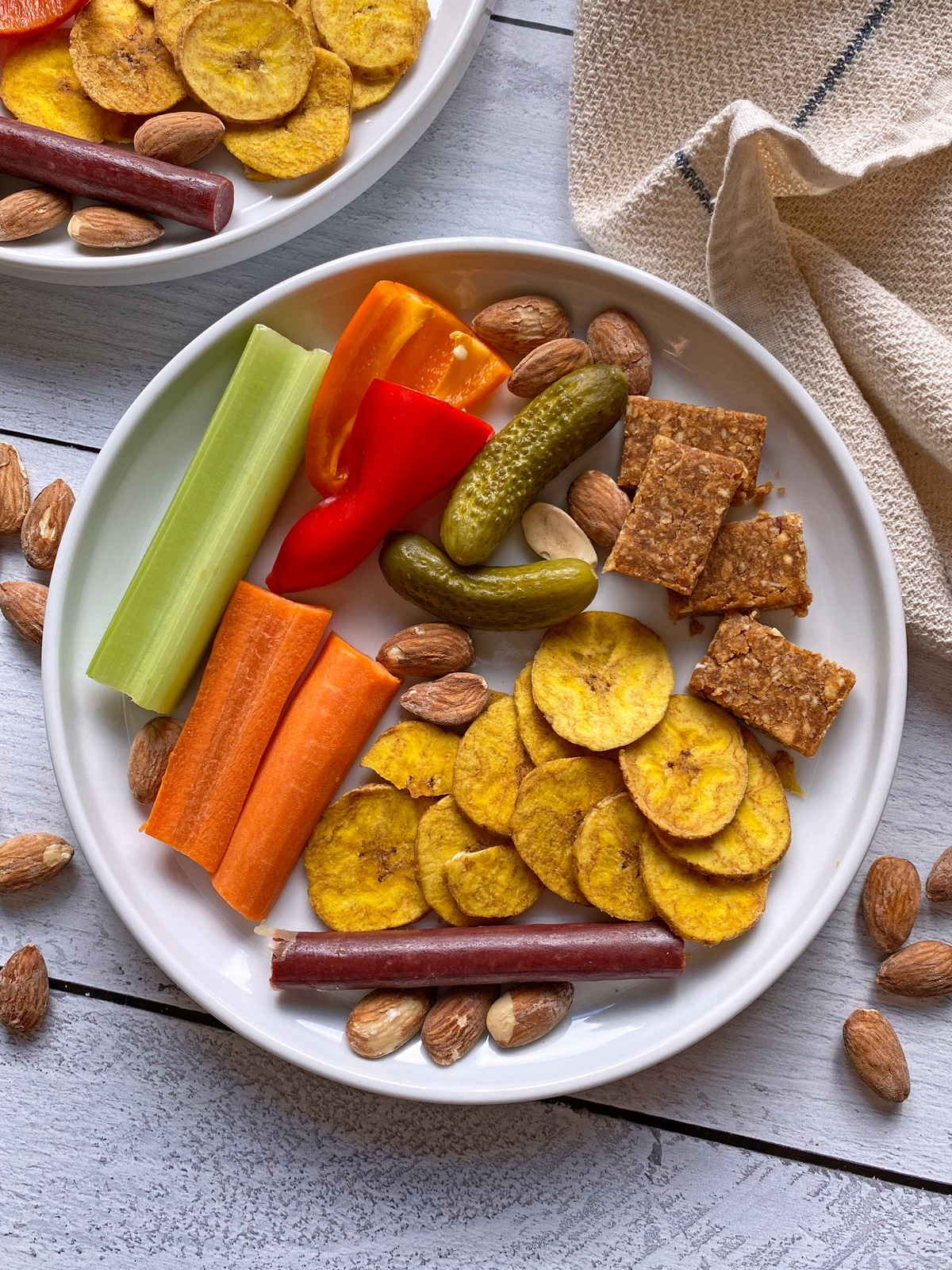 fresh veggies: carrots, celery and mini bell peppers
miniature dill pickles
That's It apple mango fruit bar (Trader Joe's sells these too)
salted, dry roasted almonds (if your kids don't like raw almonds they may like them dry roasted and salted - so tasty)
Inka Plantain chips (usually cheaper to buy online than in-store)
New Primal grass fed meat stick (my kids love this brand)
Snack 2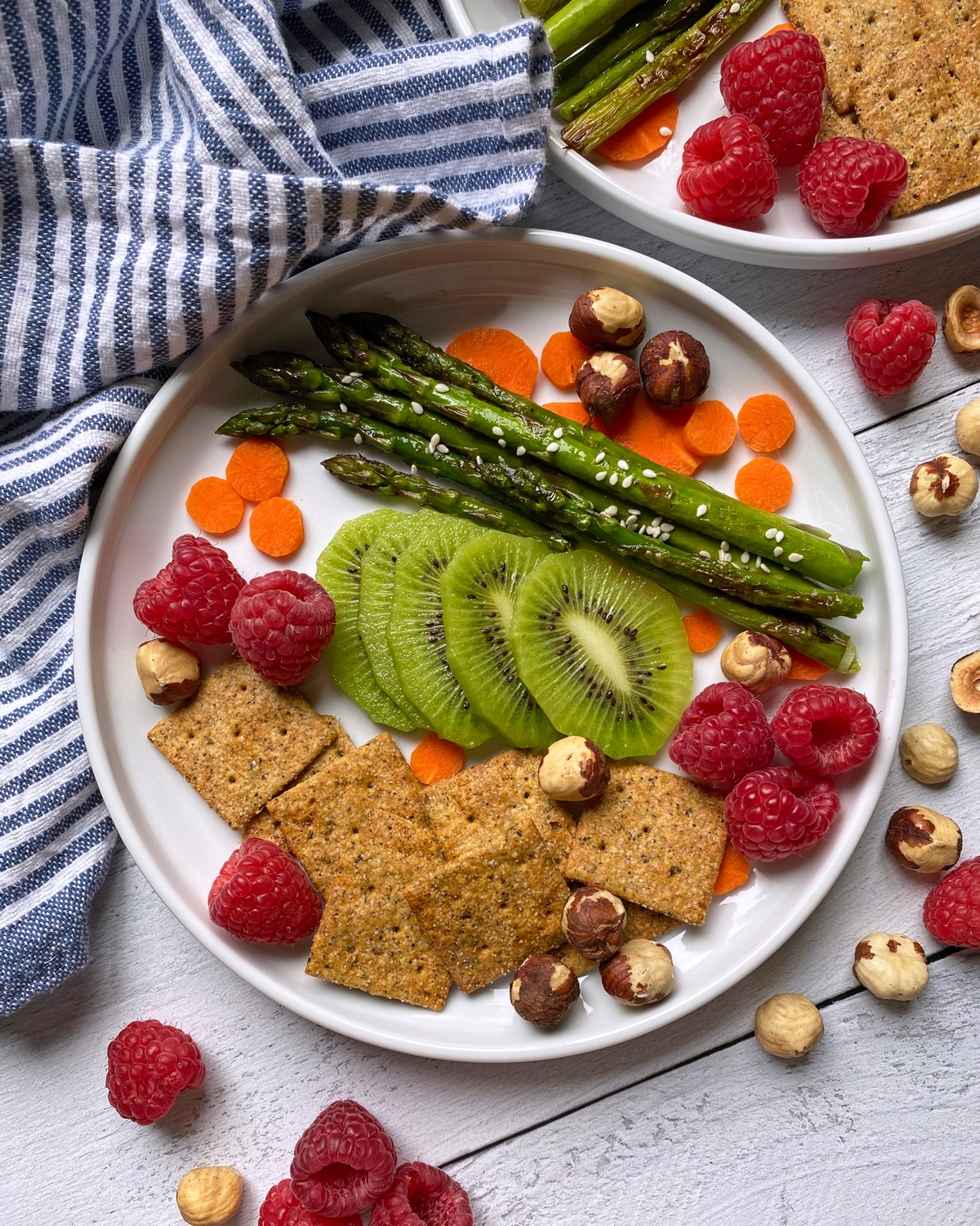 sauteed asparagus (cook fresh asparagus with a little avocado oil and salt on the stove top over medium heat)
fresh fruit: raspberries, kiwi
carrot
dry roasted hazelnuts (good price at Trader Joe's)
simple mills sun-dried tomato & basil crackers
Snack 3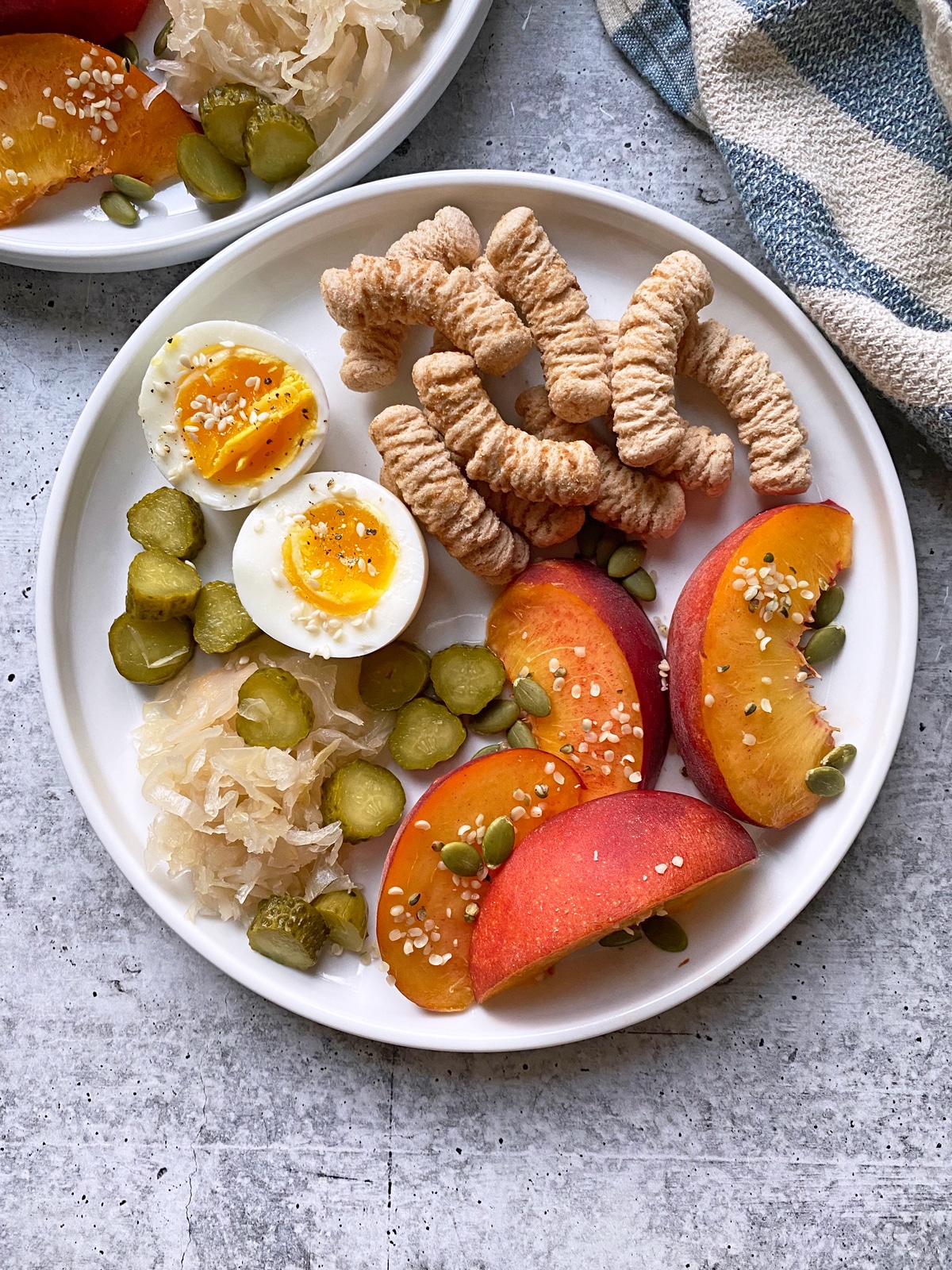 Lesser Evil Paleo puffs
peaches (topped with hemp seeds and pumpkin seeds)
sauerkraut
mini dill pickles
boiled eggs
Snack 4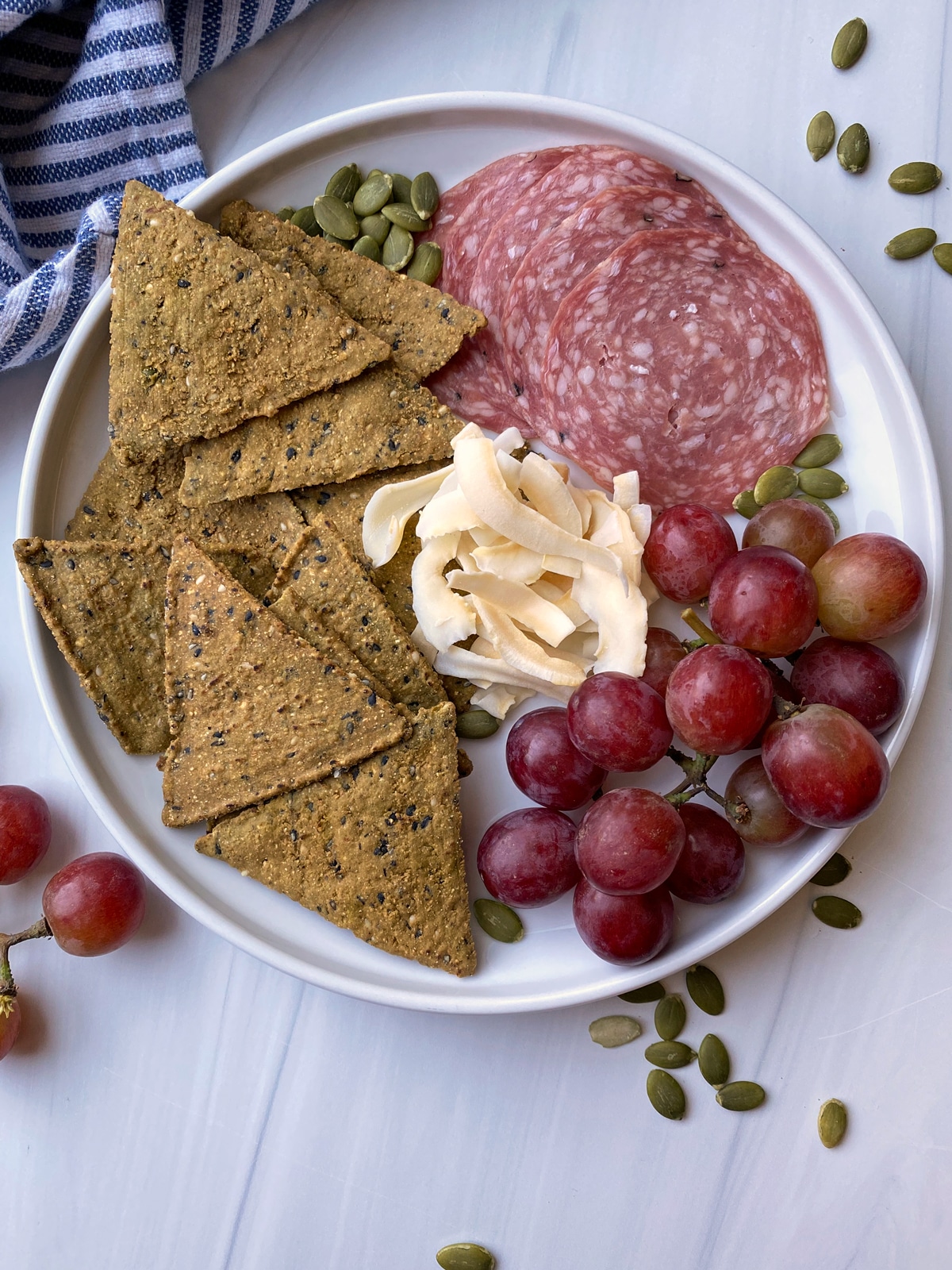 Snack 5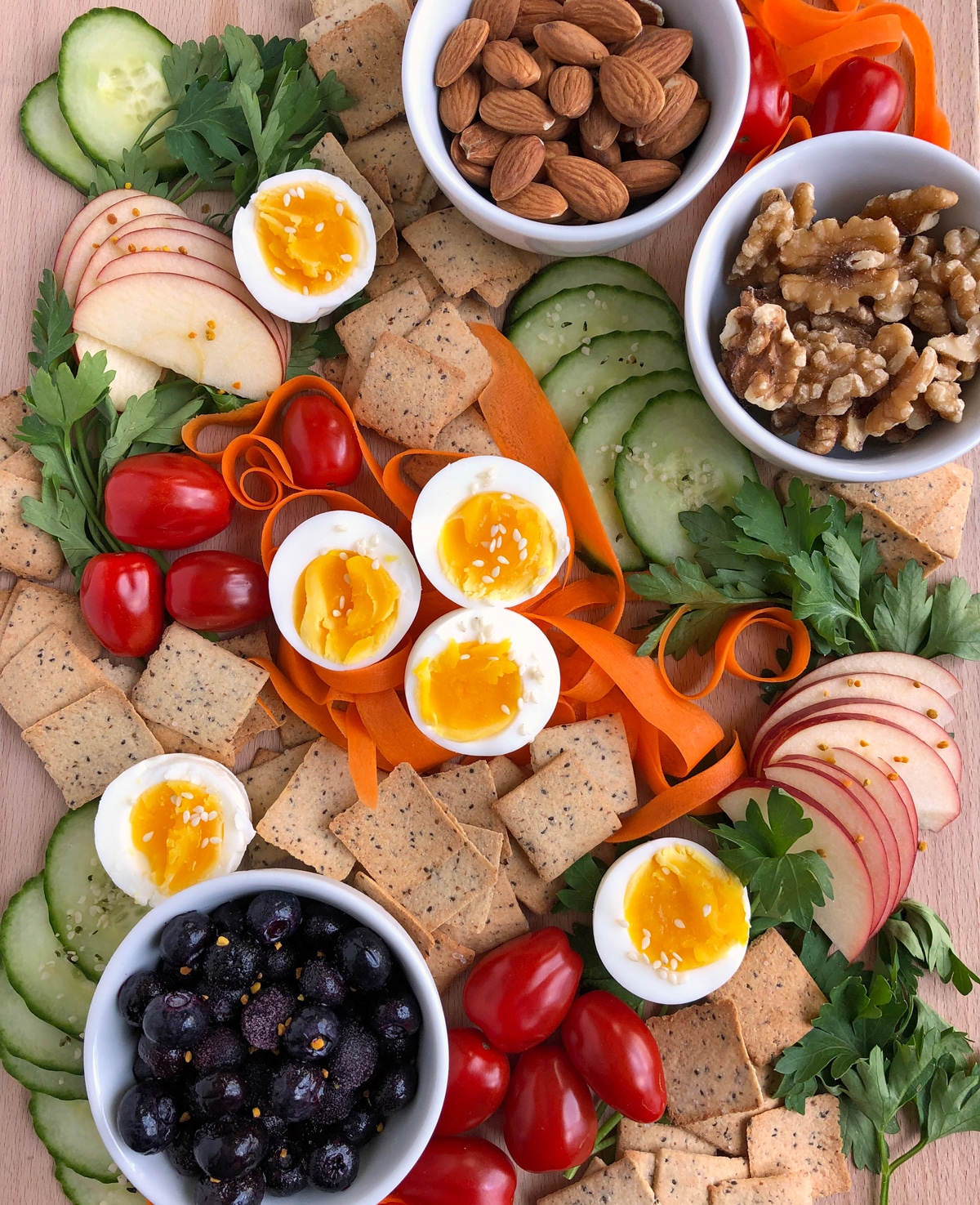 boiled eggs
cucumber, carrots, tomatoes
apples
frozen blueberries
raw nuts: almonds & walnuts
Snack 6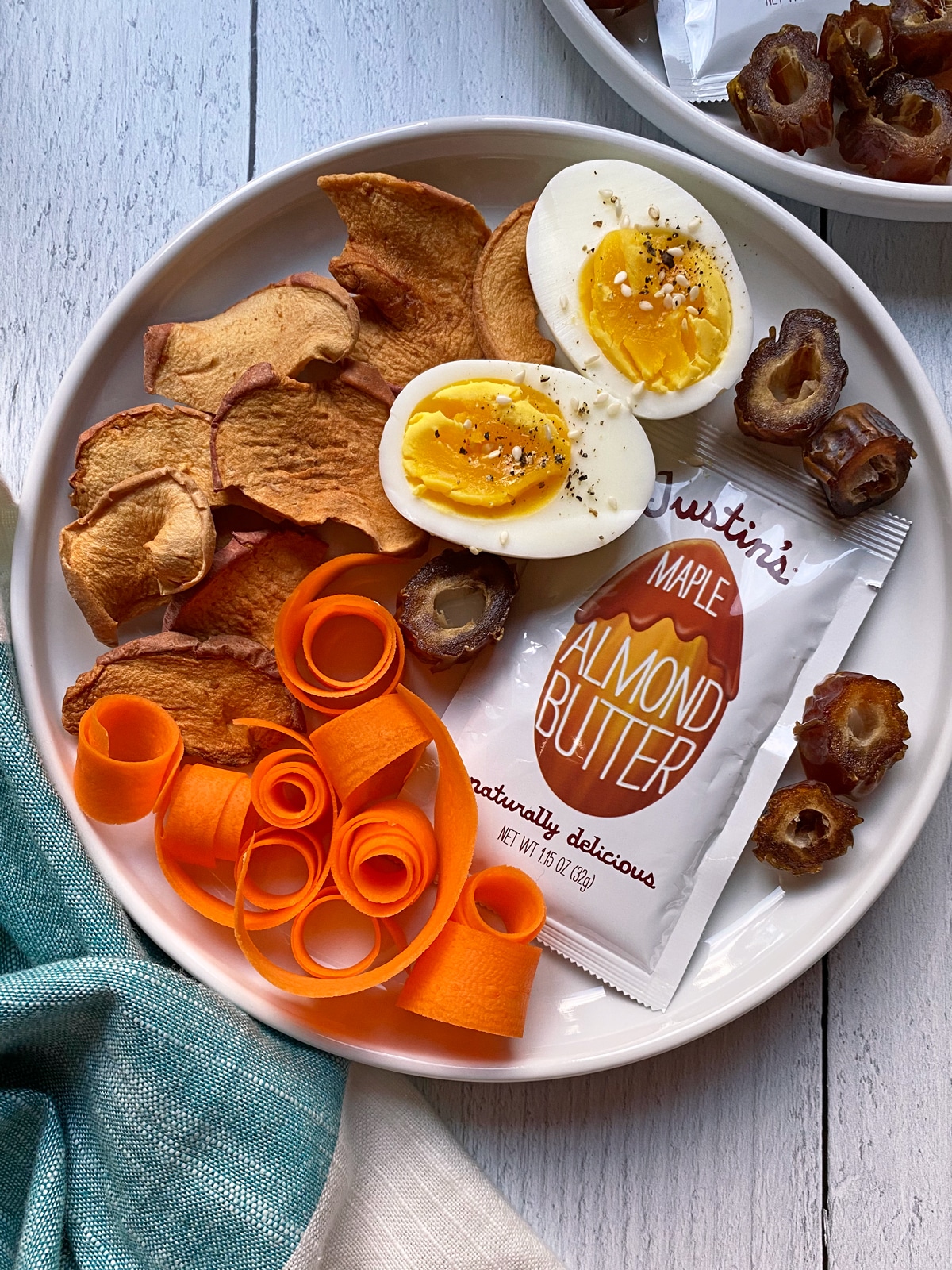 Bare apple chips
Justin's maple almond butter (my kids love being able to eat nut butter straight from the packet...also, buying online tends to be cheaper than in store)
peeled carrot (just peel a carrot using a simple vegetable peeler - my kids love eating carrots this way)
boiled egg
medjool dates, chopped
Snack 7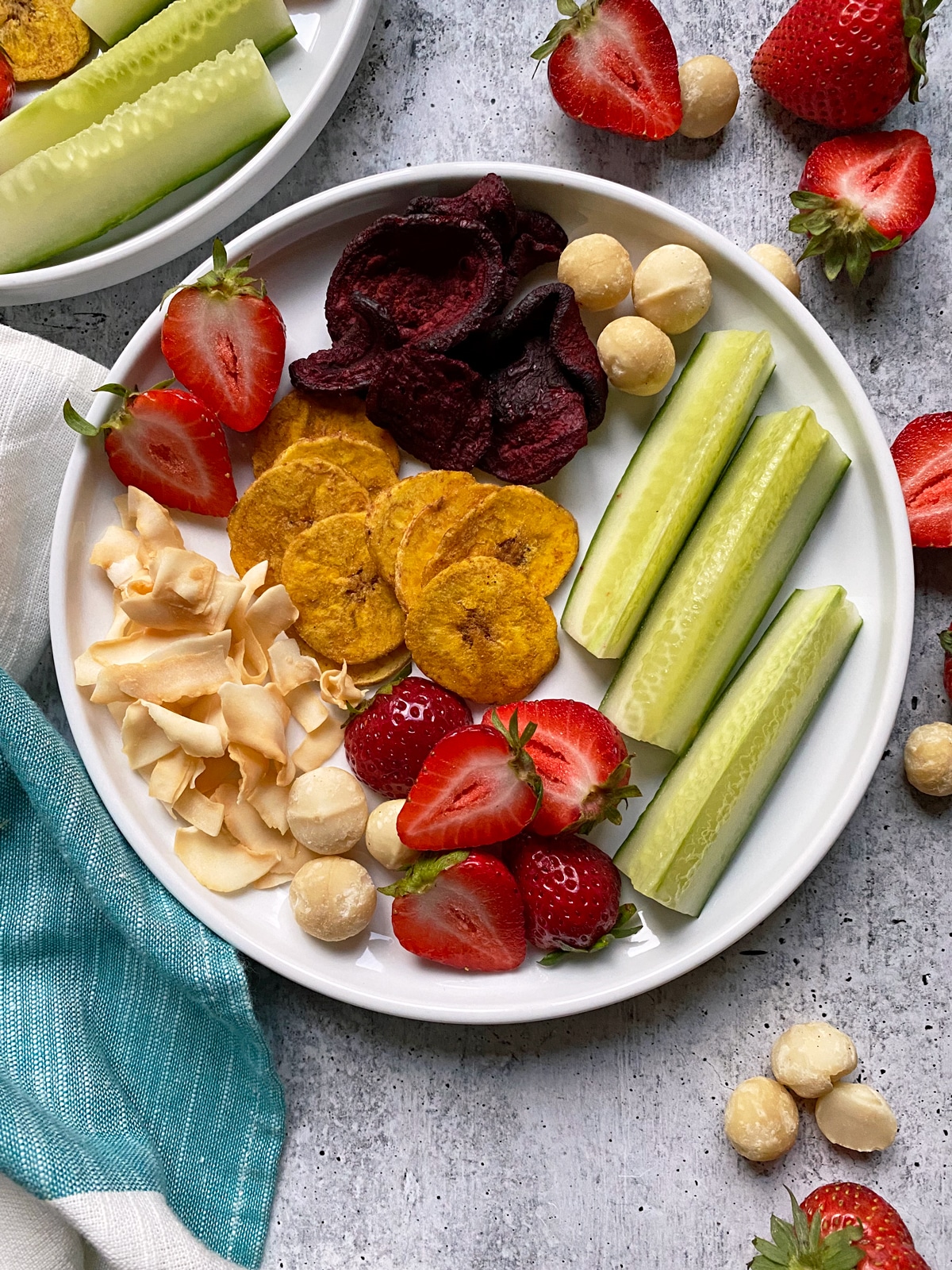 Snack 8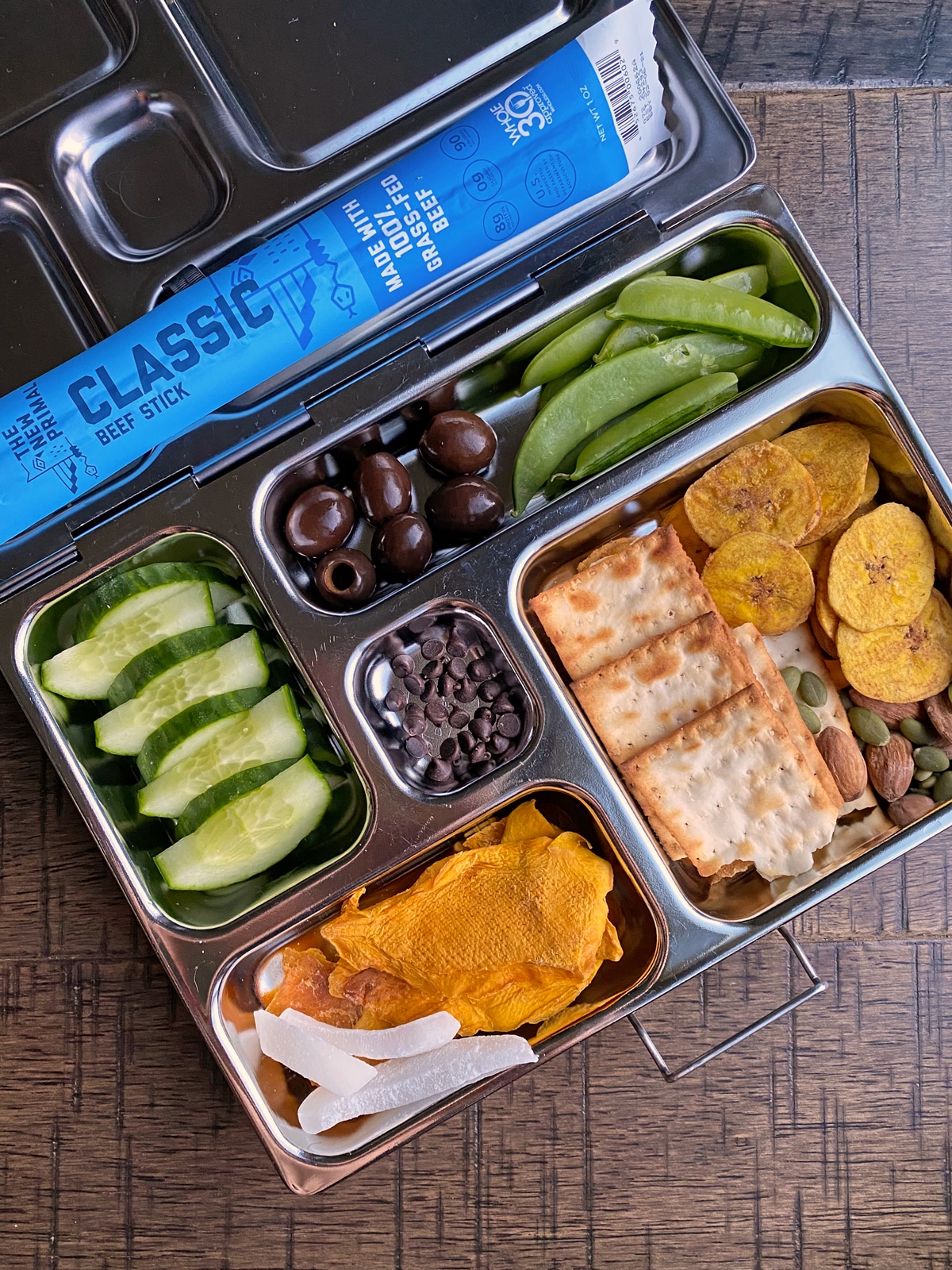 New Primal grass fed beef stick
cucumber, olives, snap peas
Trader Joe's coconut strips (not 100% Paleo because it has a small amount of sugar, but gluten free and a great treat)
chocolate chips
dry roasted almonds, raw pumpkin seeds
Inka plantain chips (yes, we eat a lot of these!)
Snack 9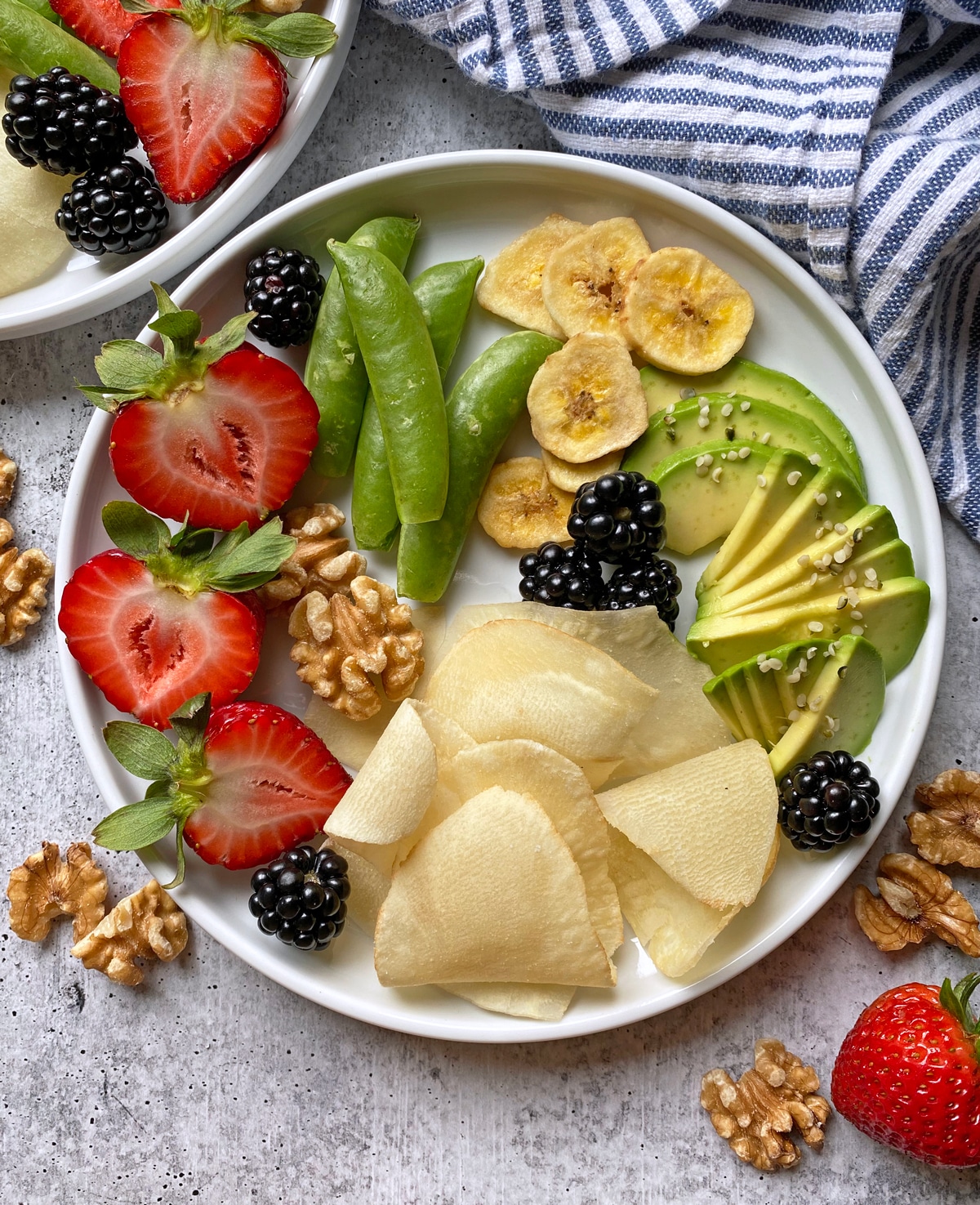 snap peas
fresh fruit: blackberries, strawberries
raw walnuts
banana chips (note: most brands contain added sugar, which isn't Paleo but fine for a treat. Look for ones cooked without vegetable oil.)
avocado
Artisan Tropic cassava chips (these aren't very salty, but they taste good and have an excellent crunch)
Snack 10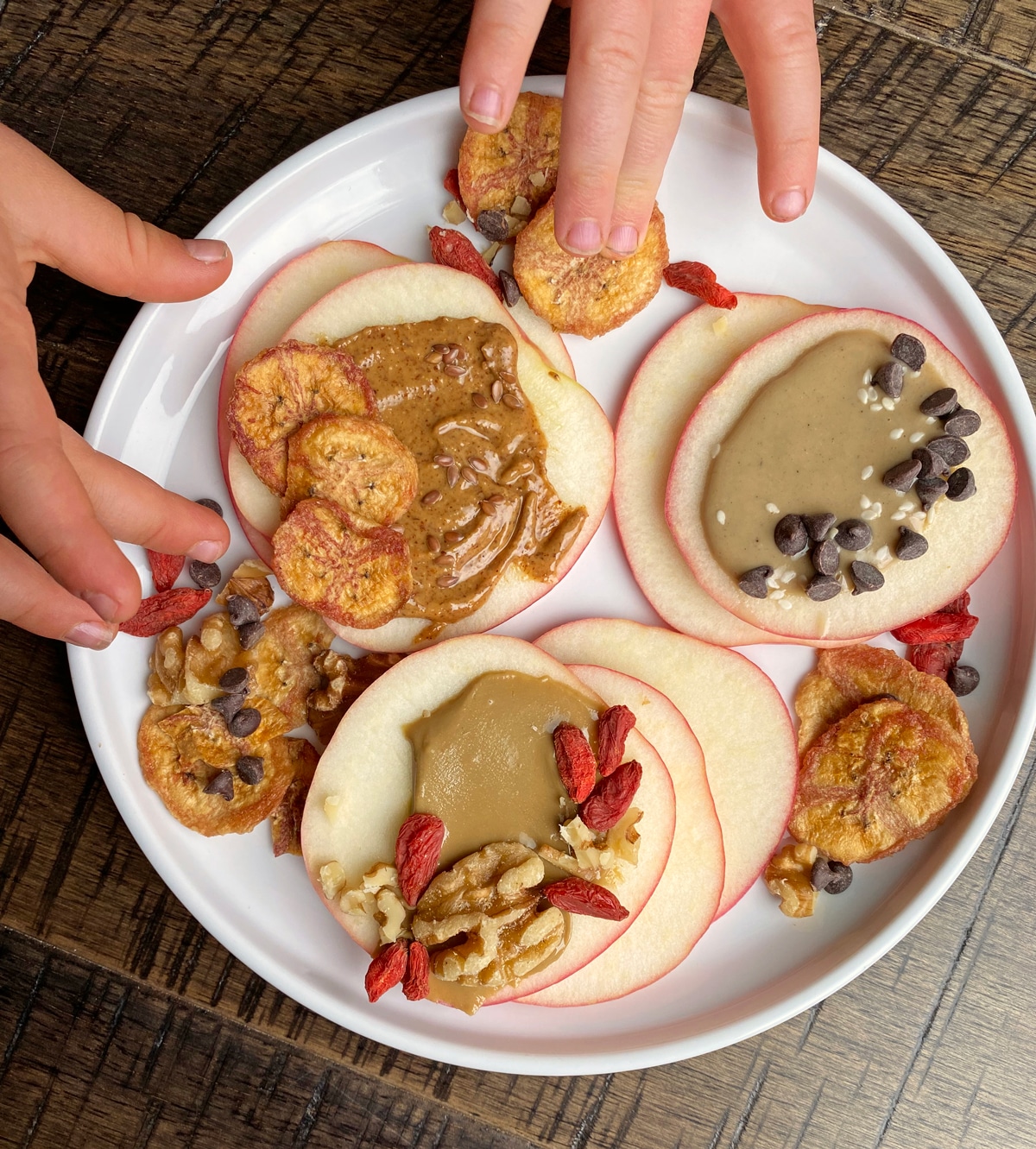 Snack 11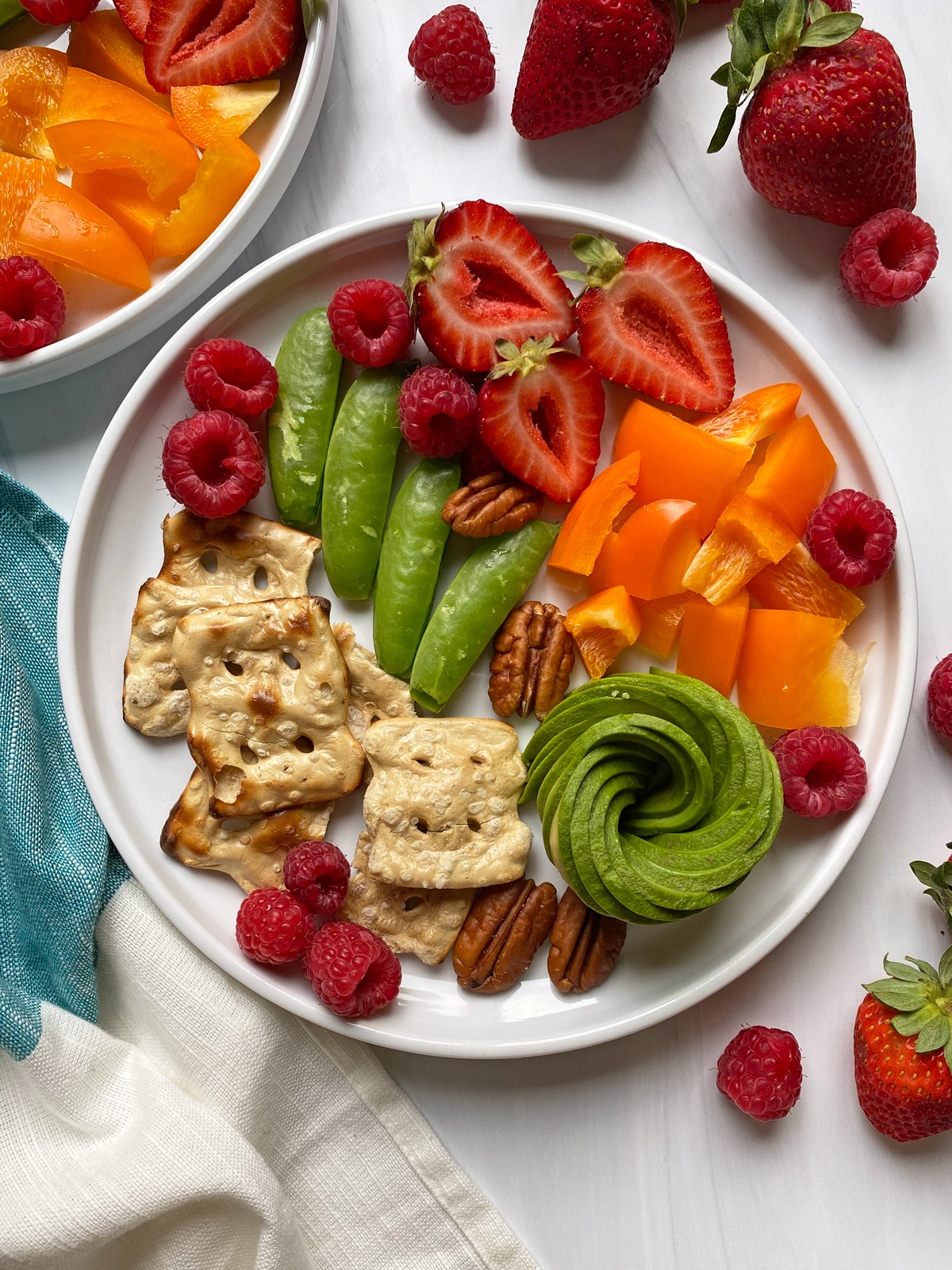 fresh berries: raspberries, strawberries
veggies: snap peas, bell pepper
avocado (made into an avocado rose)
Paleo pretzels (these are the only Paleo pretzels I have seen on the market and we love them)
pecans
Snack 12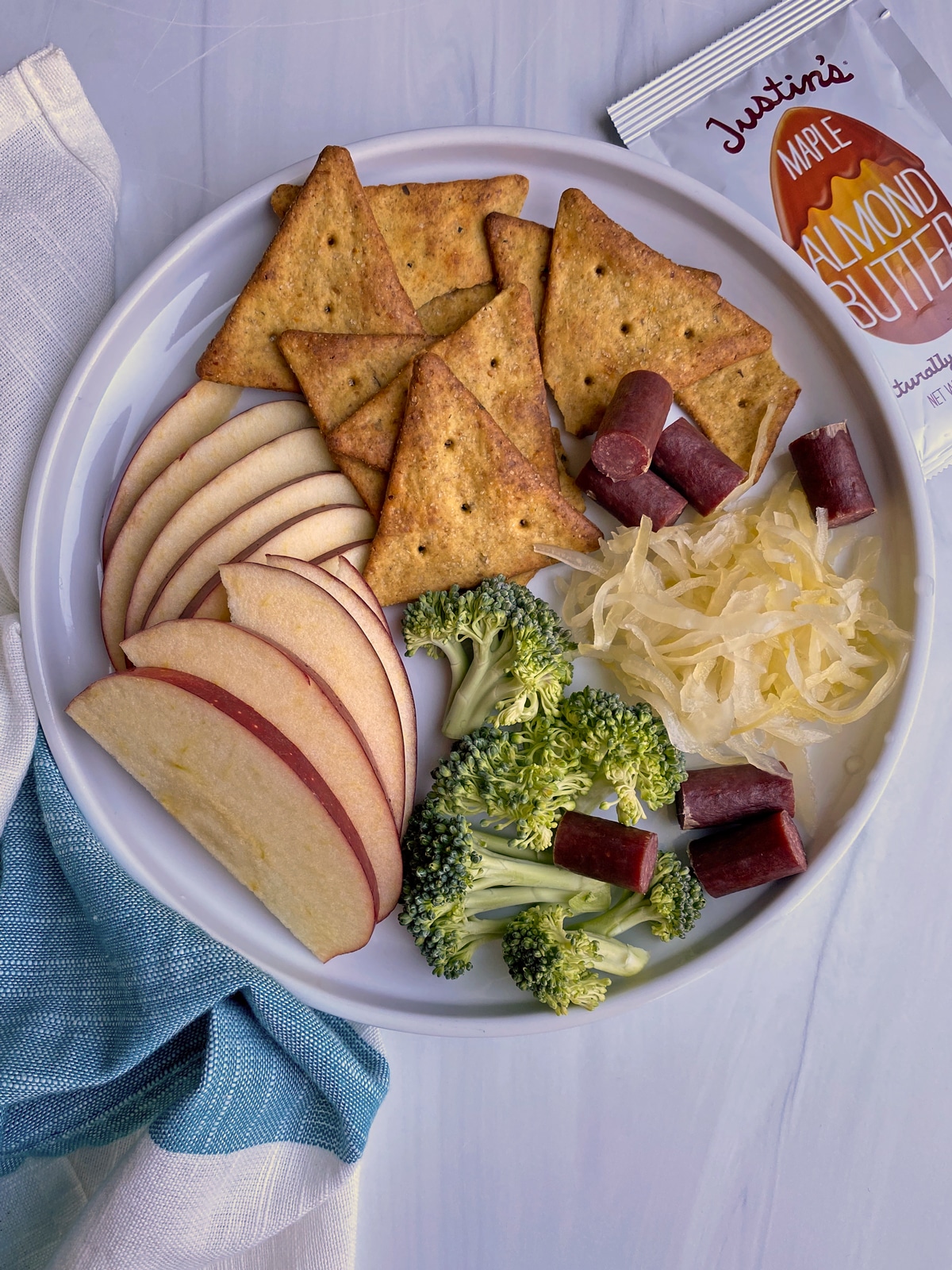 Snack 13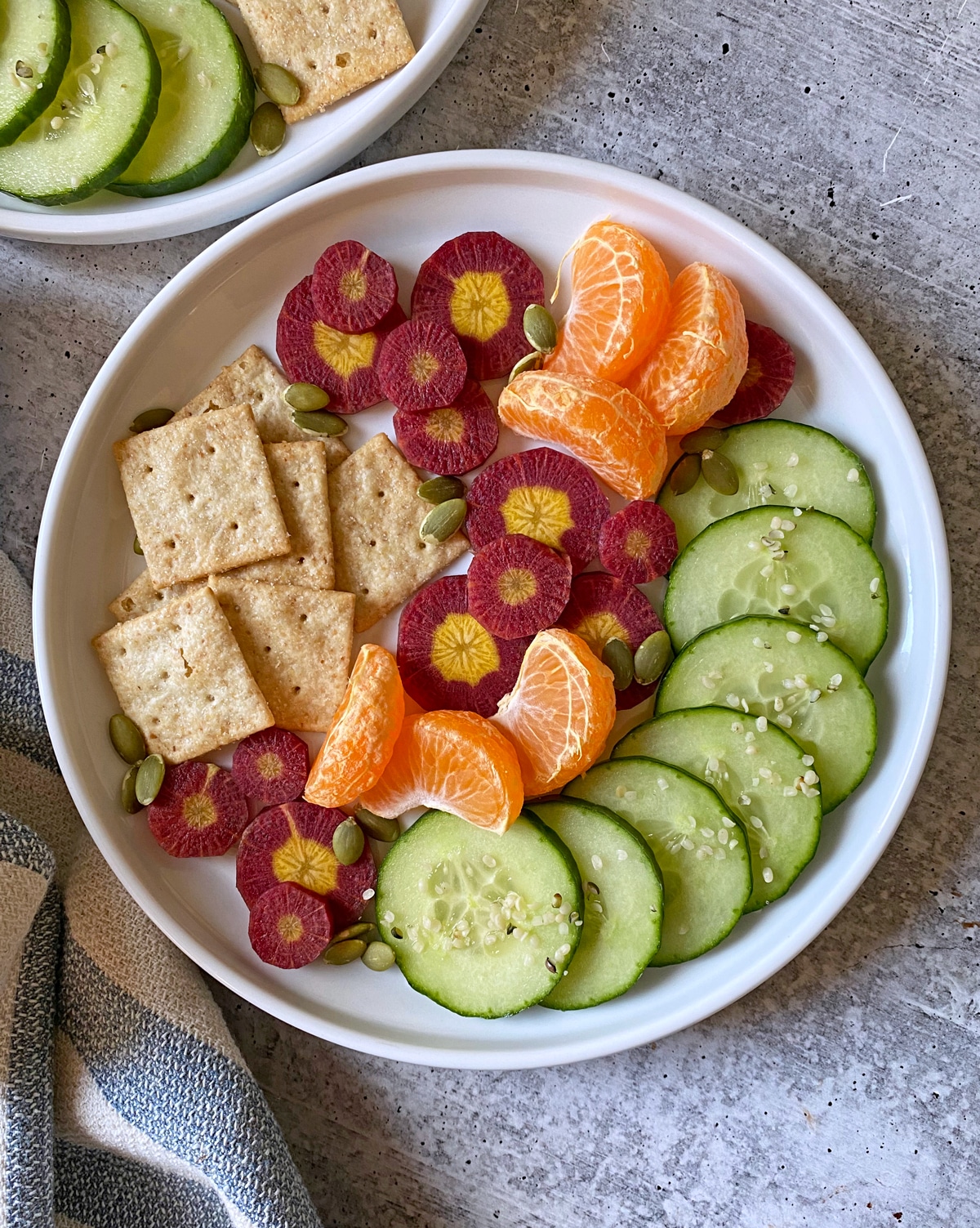 simple mills almond flour crackers (the sea salt ones, shown above, are my favorite)
fresh veggies: purple carrot, cucumber (sprinkled with hemp seed)
cutie oranges
pumpkin seeds
Snack 14
fresh veggies: tomatoes, rainbow carrots, celery, snap peas
chocolate chips
pecans
Lesser Evil paleo puffs (I LOVE these! However, if you don't like the flavor of coconut oil, these probably aren't for you.)
Real Food From the Ground Up grain free chips and organic salsa
strawberries
Snack 15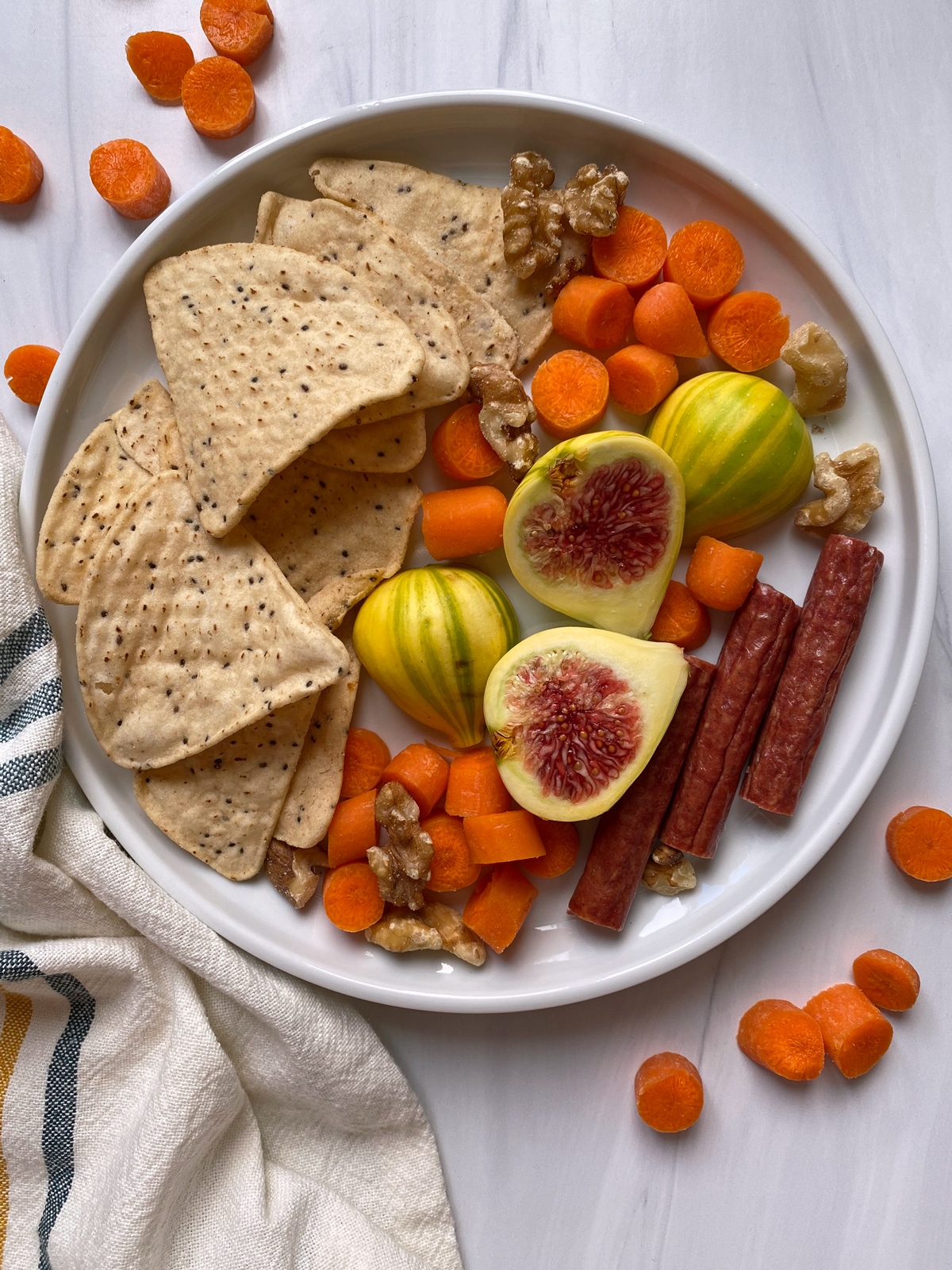 And that sums things up! This collection should provide you with a lot of great easy Paleo snacks, especially if you have little ones.
Paleo Snack Recipes
Buying snacks is great and all, as it's easy and less time consuming. But, if you're looking for a few simple Paleo snack recipes, then check these out from the blog:
Enjoy!