This healthy Tigernut Flour Chocolate Cake is Paleo, grain free, dairy free and can easily be made nut free. It is made with a blend of tigernut flour, tapioca flour and cacao powder and is sweetened with coconut sugar. This Paleo chocolate cake recipe is dense, moist and perfect for any birthday or celebration!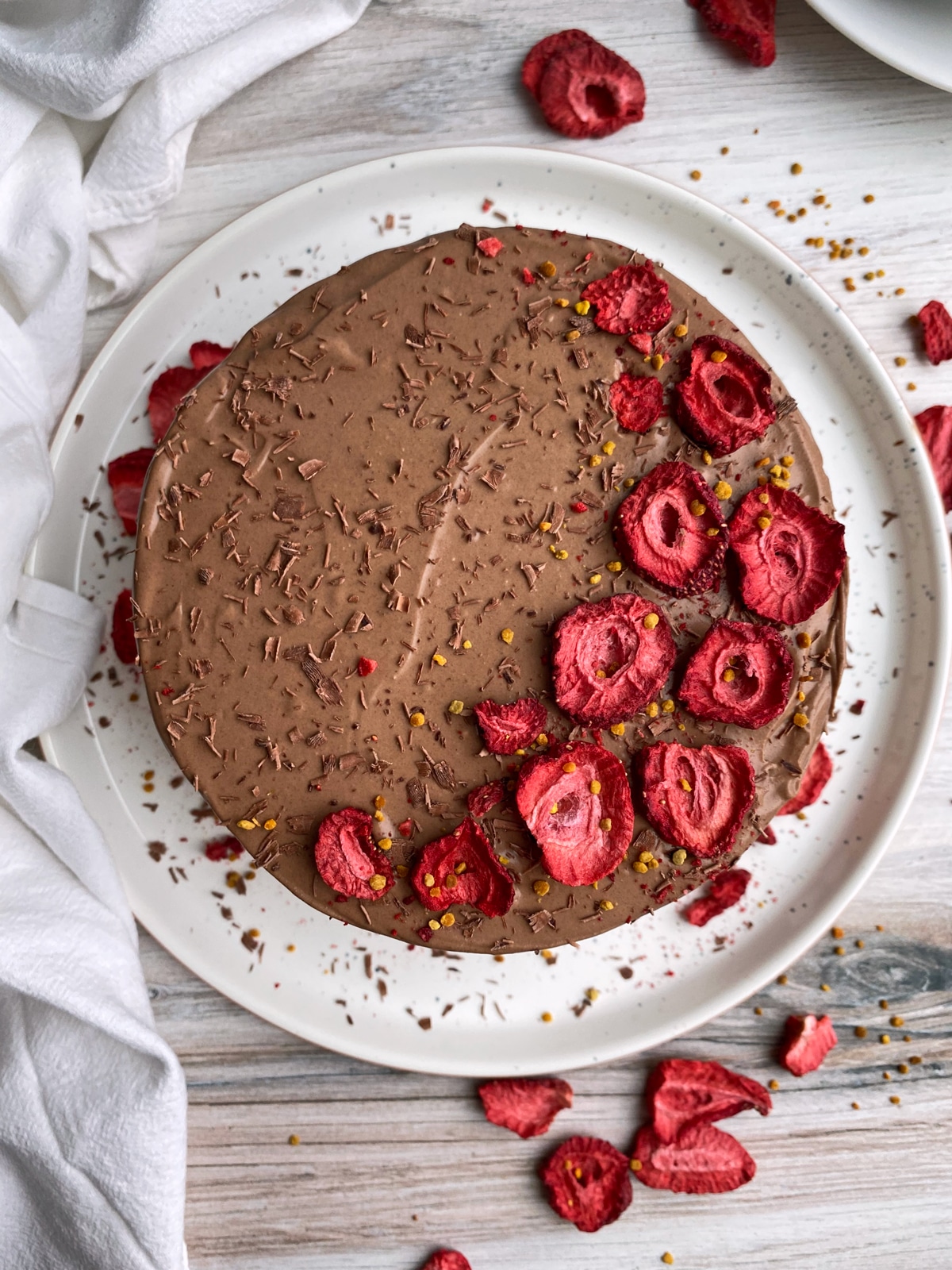 I've been testing this tigernut cake recipe for quite some time, but I've finally perfected it!
I'll be honest, cakes are not my favorite thing to make (well, besides Paleo mug cakes) because they are such a commitment!
They require a lot of ingredients and then you're left with a lot of dessert. Which, isn't always a bad thing. But, if you do the amount of baking that I do, then having multiple full-sized cakes laying around the house isn't optimal.
However, this grain free chocolate cake is worth all the time, ingredients and money I spent recipe testing. It's the perfect dessert to wow your guests if you're in need of a gluten free, dairy free, refined sugar free treat. Dare I say, this is the BEST Paleo chocolate cake ever!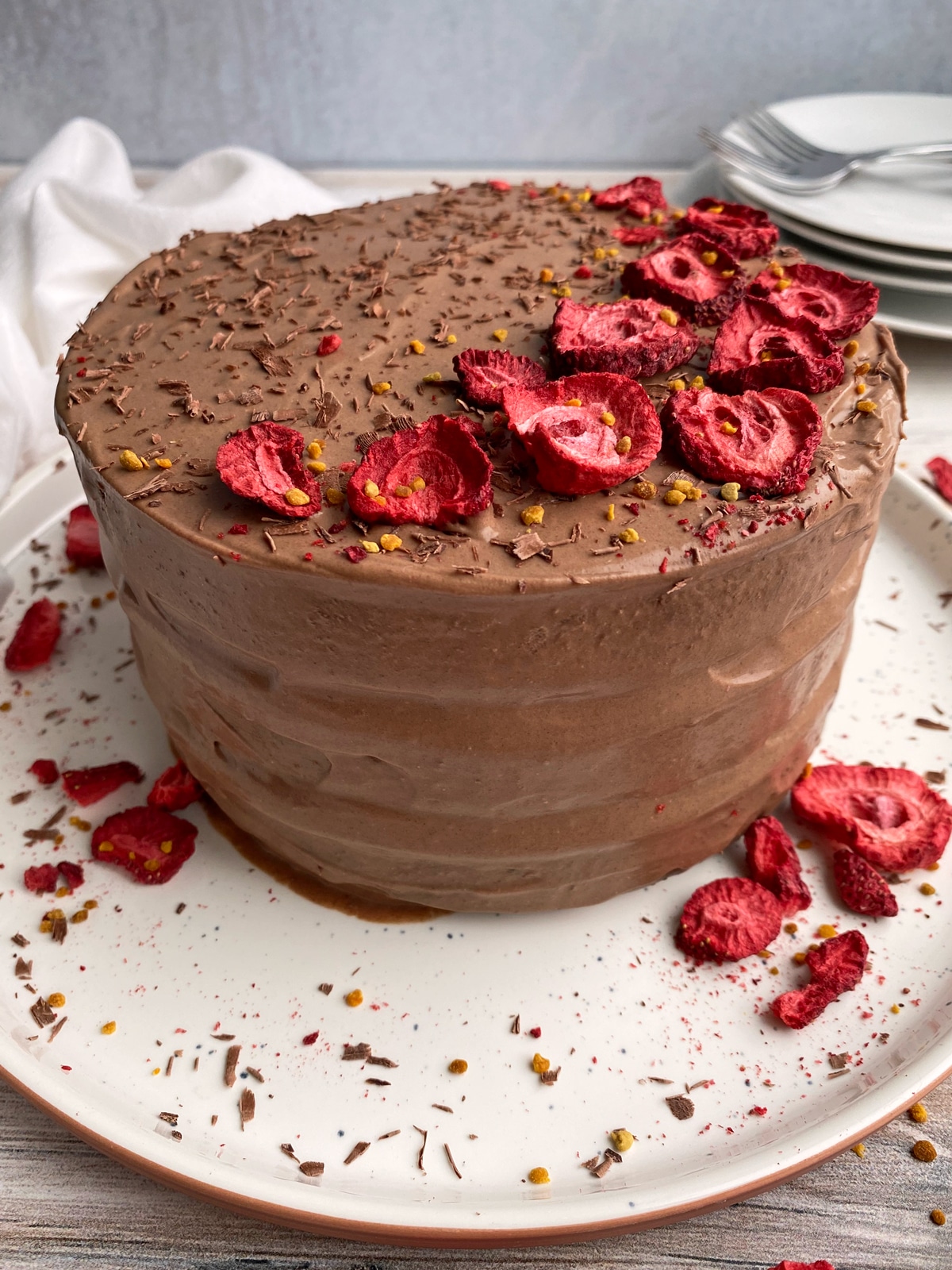 Healthy Tigernut Flour Chocolate Cake 
My recipe for chocolate tigernut cake is healthy, but still tastes amazing! Yes, it is grain free, dairy free and lower in sugar than your average cake recipe, but it still tastes like an indulgent dessert.
This 6-inch, three layer tigernut cake has a texture that is slightly denser than a "regular" cake, but it still has a nice crumb and is moist - not dry. (Ugh, dry cakes are the worst!)
Recipe Highlights
Paleo friendly
gluten free & grain free (made with tigernut flour)
rich dark chocolate flavor
refined sugar free (made with coconut sugar)
easily made nut free (swap almond milk for coconut milk)
moist and fluffy with a nice crumb
easy chocolate coconut cream frosting
This no-fail Paleo cake is just what you need for your next celebration!
Before we dive into the recipe, let's discuss tigernut flour. If you're new to the blog, you may not have heard about this nut free Paleo baking flour. And if you've followed my blog for a while, then you know that I have many tigernut flour recipes on my site.
What is tigernut flour?
First off, tigernut flour IS Paleo friendly. Not only Paleo, but gluten free, grain free, nut free, AIP friendly and Vegan too.
Tigernut flour is made from finely ground, peeled tigernuts. As confusing as it may be, tigernuts are not actually nuts, but small root vegetables. They are naturally sweet and nutty in flavor, perfect for baking!
Additionally, they contain a lot of fiber, a decent amount of potassium, Vitamin E and iron, as well as resistant starch. This resistant starch has prebiotic properties that help promote the growth of beneficial bacteria in the gut.
Simply put, tigernut flour is a great baking flour for anyone that is avoiding gluten, grains, nuts and seeds but still wants to enjoy Paleo baked goods. It is a gut friendly baking flour with a delicious, nutty and naturally sweet flavor.
I love it! In fact, tigernut flour is one of my favorite Paleo baking flours.
Where to buy tigernut flour?
I buy tigernut flour from Amazon. My favorite brand is Anthony's. They produce an organic tigernut flour at a great price and I've had lots of success baking with it.
Other online places to buy tigernut flour include: Vitacost, Thrive Market and Nuts.com.
Some health food stores stock tigernut flour. But I've actually never seen it in-store. I assume it would be cheaper to buy online, as long as you can purchase it with free shipping.
How to use tigernut flour?
Tigernut flour works similar to almond flour. In some recipes it can be the sole flour, such as my Vegan Tigernut Flour Waffles and Chocolate Chip Tigernut Flour Muffins. But, depending on the other ingredients in the recipe, you may need to combine it with other flours like tapioca flour or coconut flour.
You can use tigernut flour in any type of recipe, sweet or savory. I like it best in baked goods.
Tigernut flour recipes
I actually do quite a bit of baking with tigernut flour. Here are some favorite tigernut flour recipes from my blog: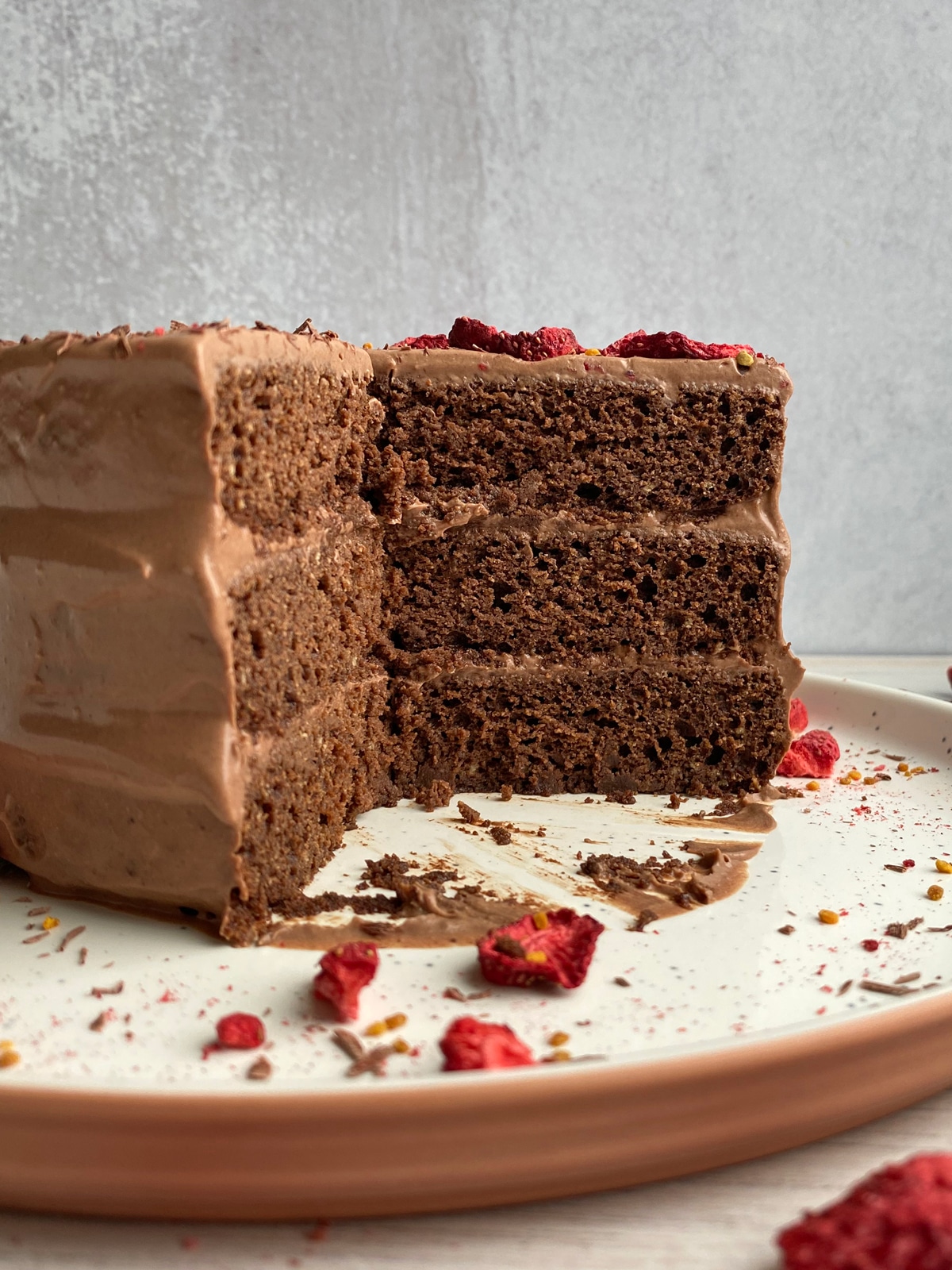 Okay, so you should have a pretty good understanding on tigernut flour after all of that! However, there's nothing quite the same as hands-on experimentation.
Which brings us back to this cake. This cake is a great tigernut recipe AND it's easy. Here's what you need to make it...
Ingredients in Tigernut Flour Chocolate Cake
tapioca flour (or arrowroot starch)
salt
large eggs
almond milk (or coconut milk)
vanilla extract
apple cider vinegar
Tigernut Flour
I used Anthony's tigernut flour in this recipe. Any brand should work, but this is the one I prefer. For best results, sift the tigernut flour prior to use and measure by the spoon and level method. Meaning, spoon the tigernut flour into each measuring cup, then level using a knife. Or, even better, measure the tigernut flour by weight (given in grams).
Tapioca Flour
Tapioca flour (or arrowroot) is necessary to get the proper cake texture. This ingredient is a must!
Cacoa Powder
I used an organic cacao powder, however cocoa powder should work as well.
Coconut Sugar
Any granulated sugar may be subbed for coconut sugar. Just be aware that some granulated sweeteners (like monk fruit) are sweeter than coconut sugar so it will slightly change the taste.
Eggs
This recipe has only been tested with eggs, so I cannot recommend an egg-free option. However, if you try an egg-free alternative, then please share the results.
Avocado Oil
Avocado oil is flavorless and perfect for Paleo baked goods because it is a healthy fat that can withstand high heats. The best replacement would be olive oil.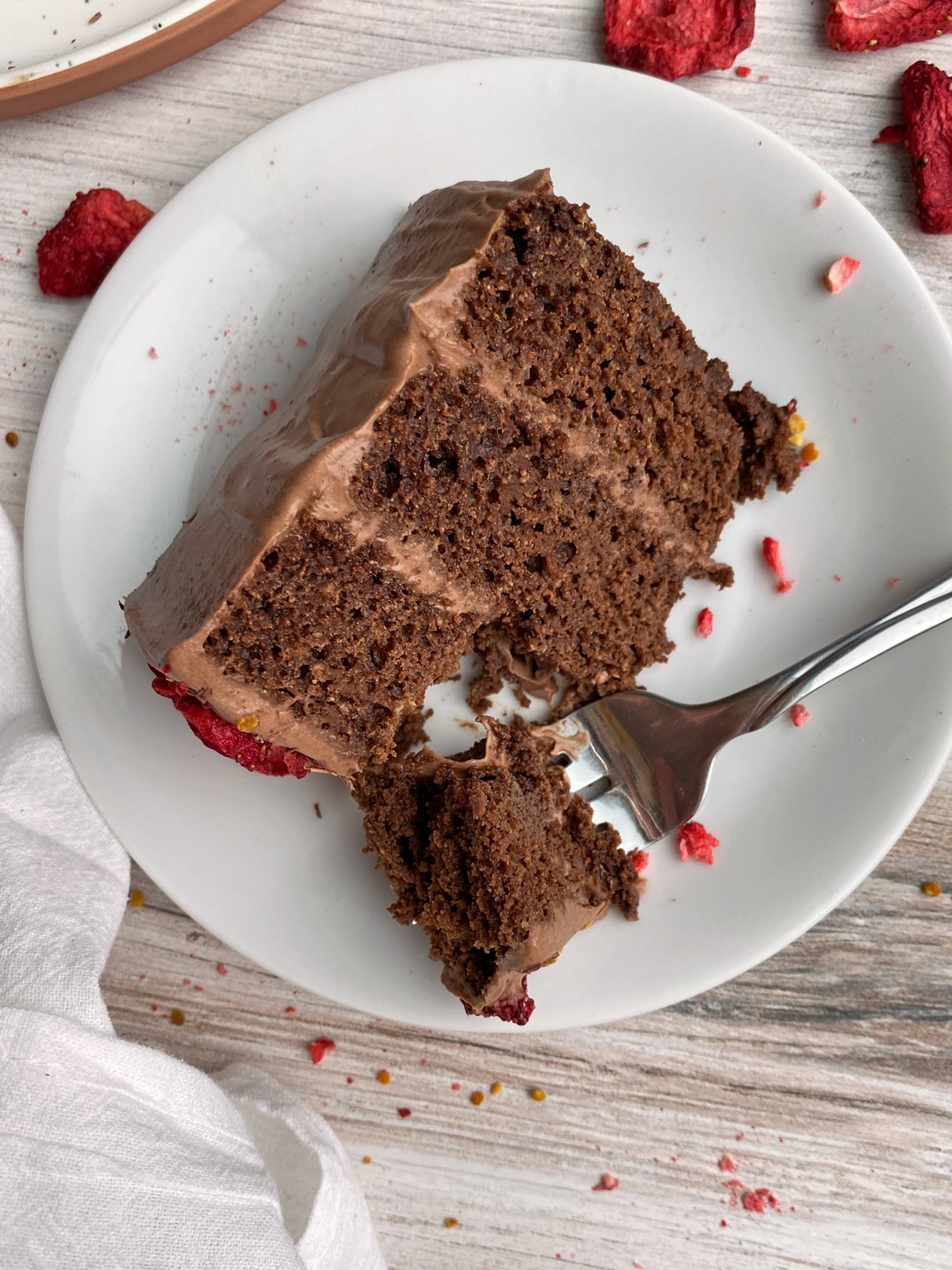 How to Make a Tigernut Flour Chocolate Cake
To make this cake, first preheat your oven to 350 degrees F.
Next, line three 6" round baking pans with parchment paper.  This will keep the cake from sticking to the pan.  The cake layers are not super thick, so I don't know how well this recipe will translate to a 9" cake pan - one, maybe two 9" ones will work.
Combine all dry ingredients in a large mixing bowl and whisk. This includes: tigernut flour, tapioca flour, cacao powder, coconut sugar, baking powder and salt.
In a separate bowl, whisk together eggs, almond milk, avocado oil, vanilla and apple cider vinegar. Then, pour into the dry mixture and whisk until the batter is a thick, smooth consistency.
Next, pour an equal amount of batter into each of the three pans.
Place the pans in the oven and bake at 350 degrees for 18-20 minutes.
Remove the cakes from oven and cool in the pan for 10 minutes. Then, transfer the cakes to a wire cooling rack and cool to room temperature.
Lastly, once the cakes are cooled, frost them using your favorite Paleo frosting.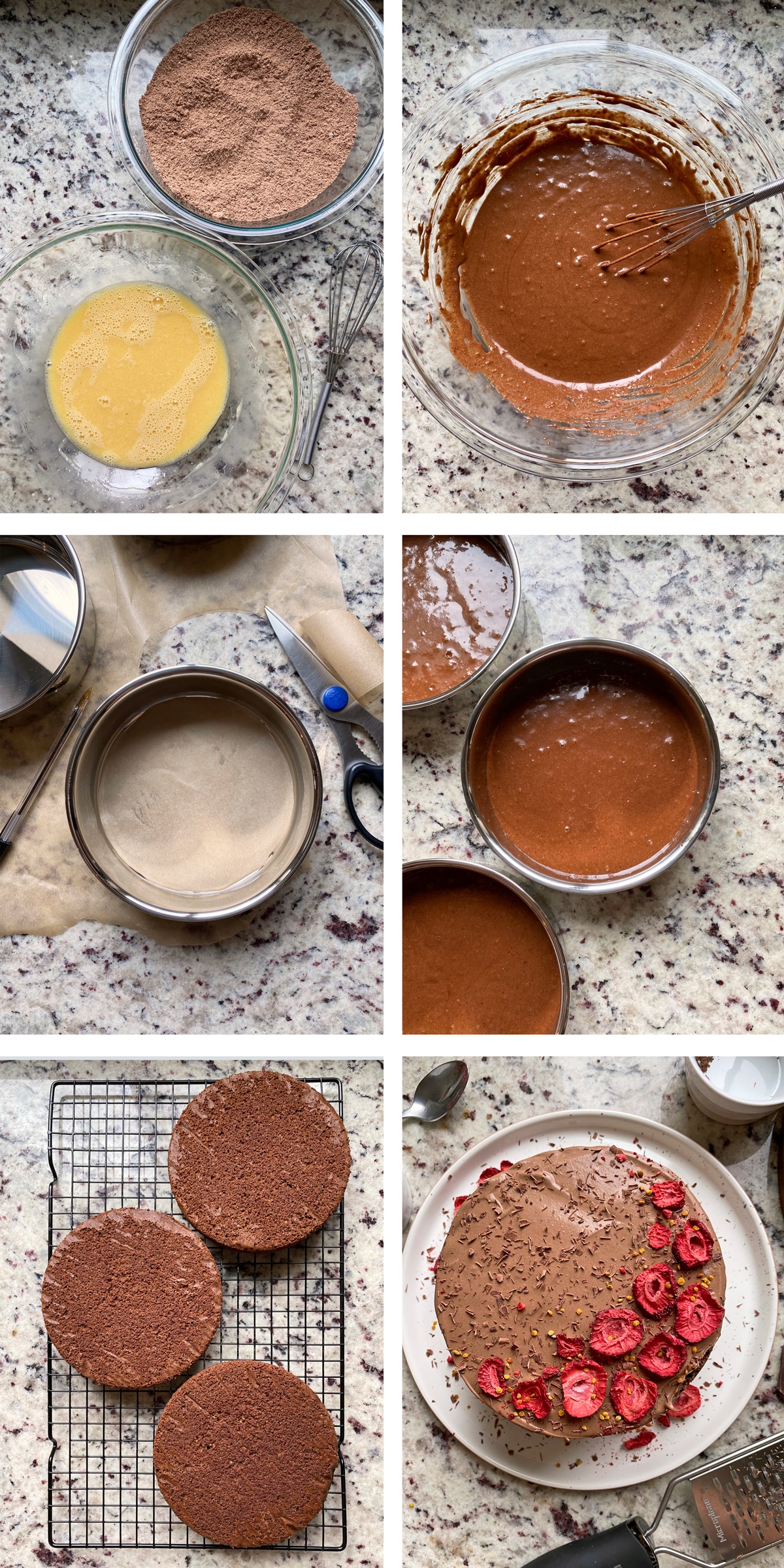 How to Decorate a Paleo Cake
For this cake, I made a chocolate coconut cream frosting and added freeze dried strawberries, chocolate shavings and bee pollen for decoration. The full recipe is given in the recipe card below, but here's a list of what you need:
Chocolate Coconut Cream Frosting
coconut cream
dark chocolate
maple syrup
vanilla extract
tapioca flour
Toppings
freeze dried strawberries
chocolate shavings
bee pollen
The frosting is best made the night prior to baking the cake because it takes a few hours to fully set. Also, toppings are best added right before serving the cake.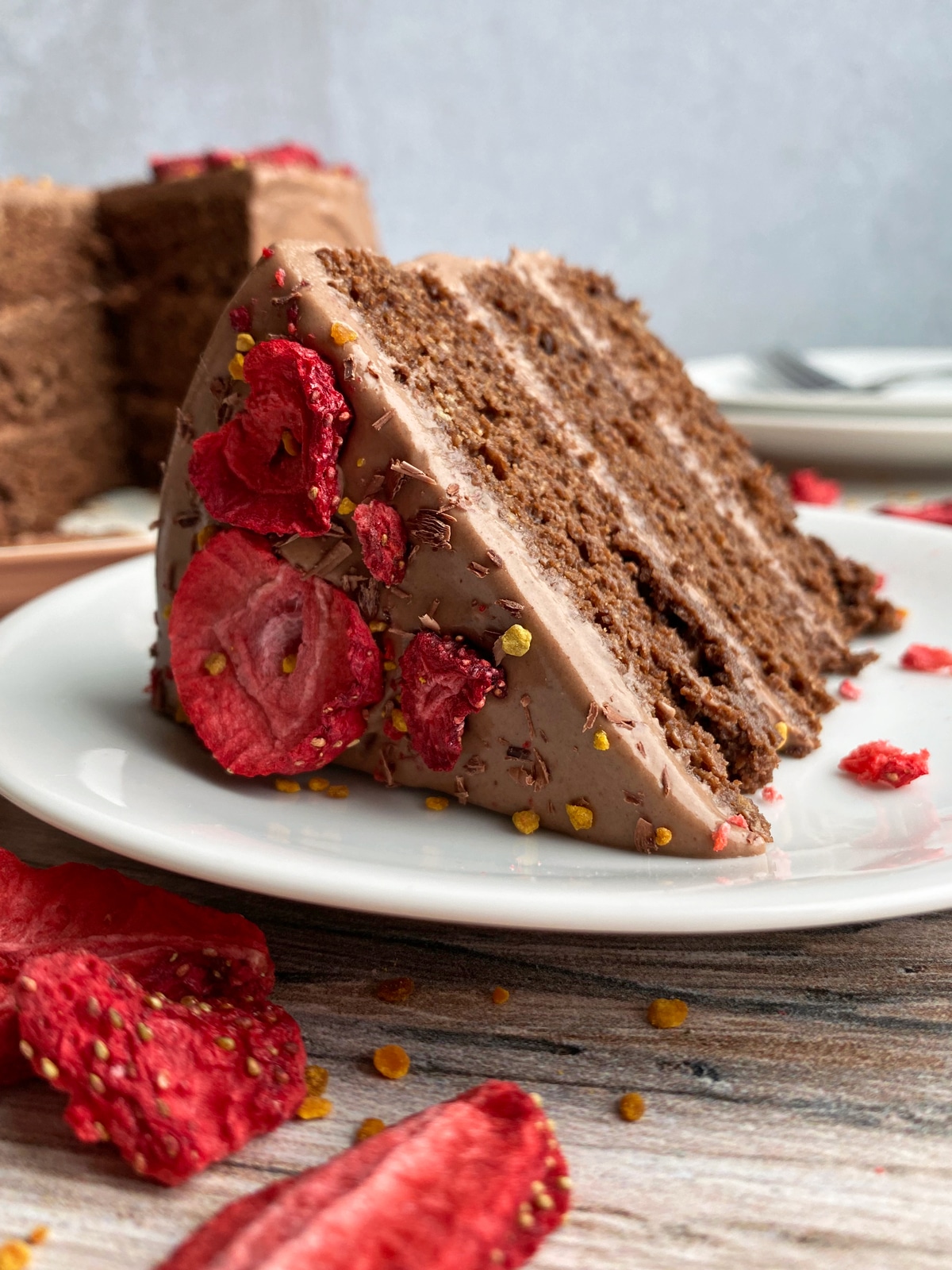 How to Store Tigernut Flour Chocolate Cake
This cake is best stored in the fridge. Cover it and keep it in the fridge for up to one week. You can also store leftovers in the freezer up to one month.
If you make your own frosting from coconut cream, it is super important to store the cake at a cool temperature.  As, coconut cream does not keep well at room temperature once the can has been open.
Print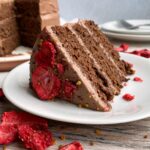 Tigernut Flour Chocolate Cake (Paleo)
Author:

Katie

Prep Time:

10 minutes

Cook Time:

18 minutes

Total Time:

28 minutes

Yield:

one

3

layered, 6" cake

1

x
---
Description
A moist, three layered Paleo cake made with tigernut flour.  Nut free, gluten free, grain free and perfect for any birthday or celebration.
---
For the Cake
For the Frosting
1 cup

coconut cream (just the cream from a can of full fat coconut milk)

¼ cup

dark chocolate chips

2 Tbsp

maple syrup

½ tsp

vanilla extract

2 Tbsp

tapioca flour
---
Instructions
For the Cake
Preheat oven to 350 degrees F.
Line three 6" round baking pans with parchment paper, set aside.
In a large mixing bowl, combine all dry ingredients (tigernut flour, tapioca flour, cacao powder, coconut sugar, baking powder, salt).
In a separate bowl, whisk together eggs, almond milk, avocado oil, vanilla and vinegar. 
Pour the wet mixture into the dry mixture and whisk batter until smooth.
Pour an equal amount of batter into each of the lined cake pans.
Place the pans in the oven and bake at 350 degrees for 18-20 minutes.
Remove cakes from the oven and cool in their pan for 10 minutes.  Then, transfer cakes to a cooling rack and cool to room temperature.
Once fully cooled, frost the cake.
Store cake covered in the fridge, for up to one week.
For the Frosting
Melt the coconut cream and chocolate chips in a small sauce pan, over low heat.
Once fully melted, remove from heat and whisk in remaining frosting ingredients.  The frosting should be smooth and quite runny.
Refrigerate the frosting overnight to thicken (or at least 4 hours).
Frost the cake after the cake has fully cooled.
---
Notes
I recommend making the frosting the night before you plan to bake the cake, as the frosting takes a least a few hours to thicken.
Keywords: cake, chocolate, tigernut flour, nut free, Paleo, dessert, tigernut cake, chocolate paleo cake, dairy free frosting, healthy paleo dessert, nut free paleo cake