This gluten free, Savory Butternut Squash Bread is the best fall flavored bread recipe! It has a savory, nutty taste thanks to the butternut squash flour and almond flour. This Paleo bread recipe is unsweetened, soft, fluffy, moist and great for making sandwiches or toast.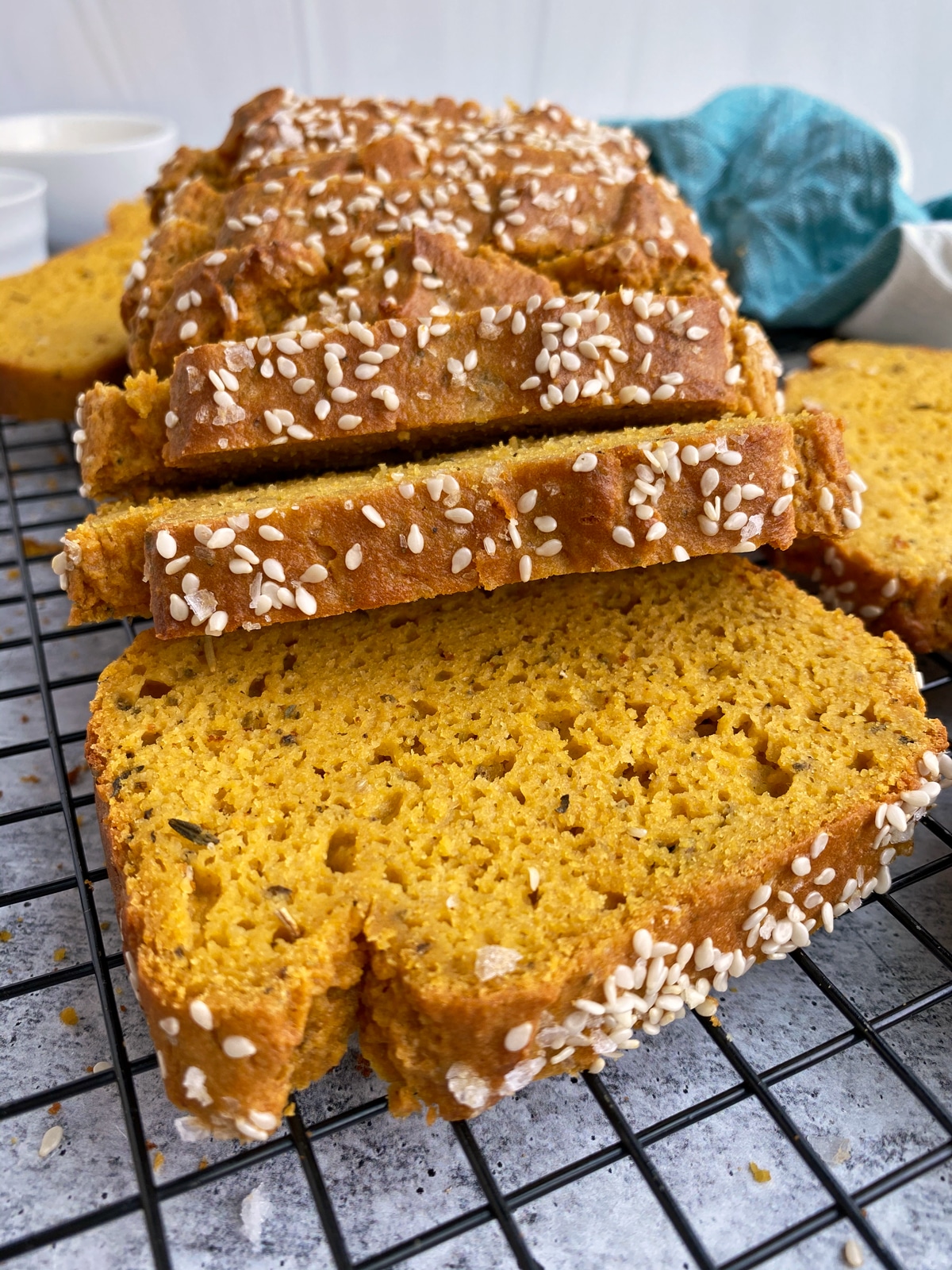 Let's step aside from pumpkin, apples and pears for a bit and shed light on another amazing fall food: winter squash!
Squash is so versatile and great for baking. It adds nutrition, flavor and color to baked goods. It can be used in sweet and savory recipes; like pancakes and bread.
What's so great about this savory butternut squash bread?
This savory Paleo bread is nutritious and actually tastes good! There are so many reasons to love it:
made without sugar
gluten free
grain free
dairy free
no vegetable oil
Plus, this winter squash bread recipe is easy to make. Since it contains squash powder, you don't have to prep any squash ahead of time. Simply combine the ingredients in a mixing bowl and bake!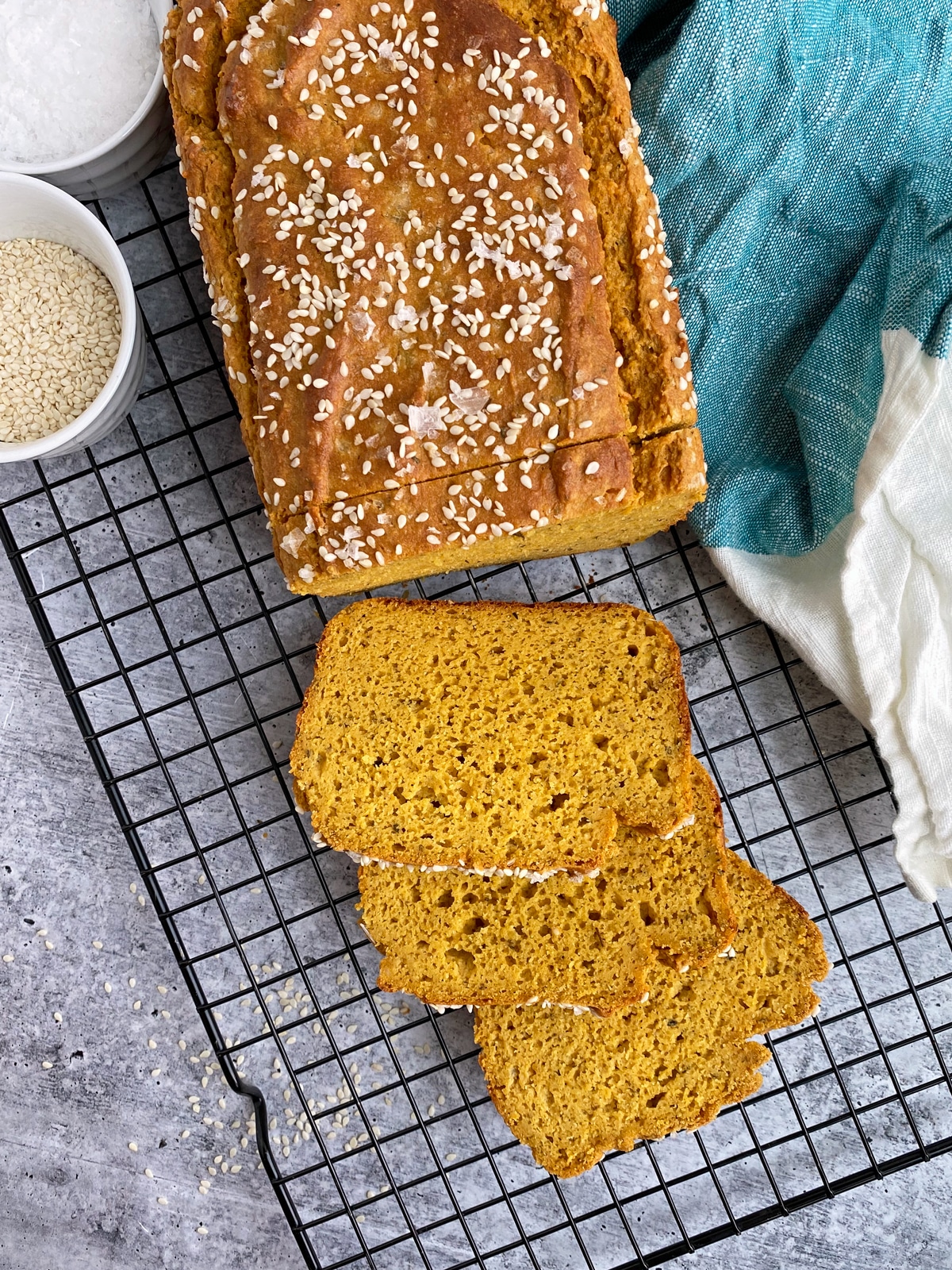 What is butternut squash powder?
This low carb squash bread is made with squash powder, rather than whole squash. (Check out my Rosemary Butternut Squash Bread recipe for one made with whole, steamed squash.)
Butternut squash powder is made from real butternut squash that has been dried and ground into a fine flour. I use Iya Foods butternut squash whole foods powder because it has a great flavor and meets my high quality standards. It is made from 100% American grown butternut squash and is free of additives, dyes and preservatives.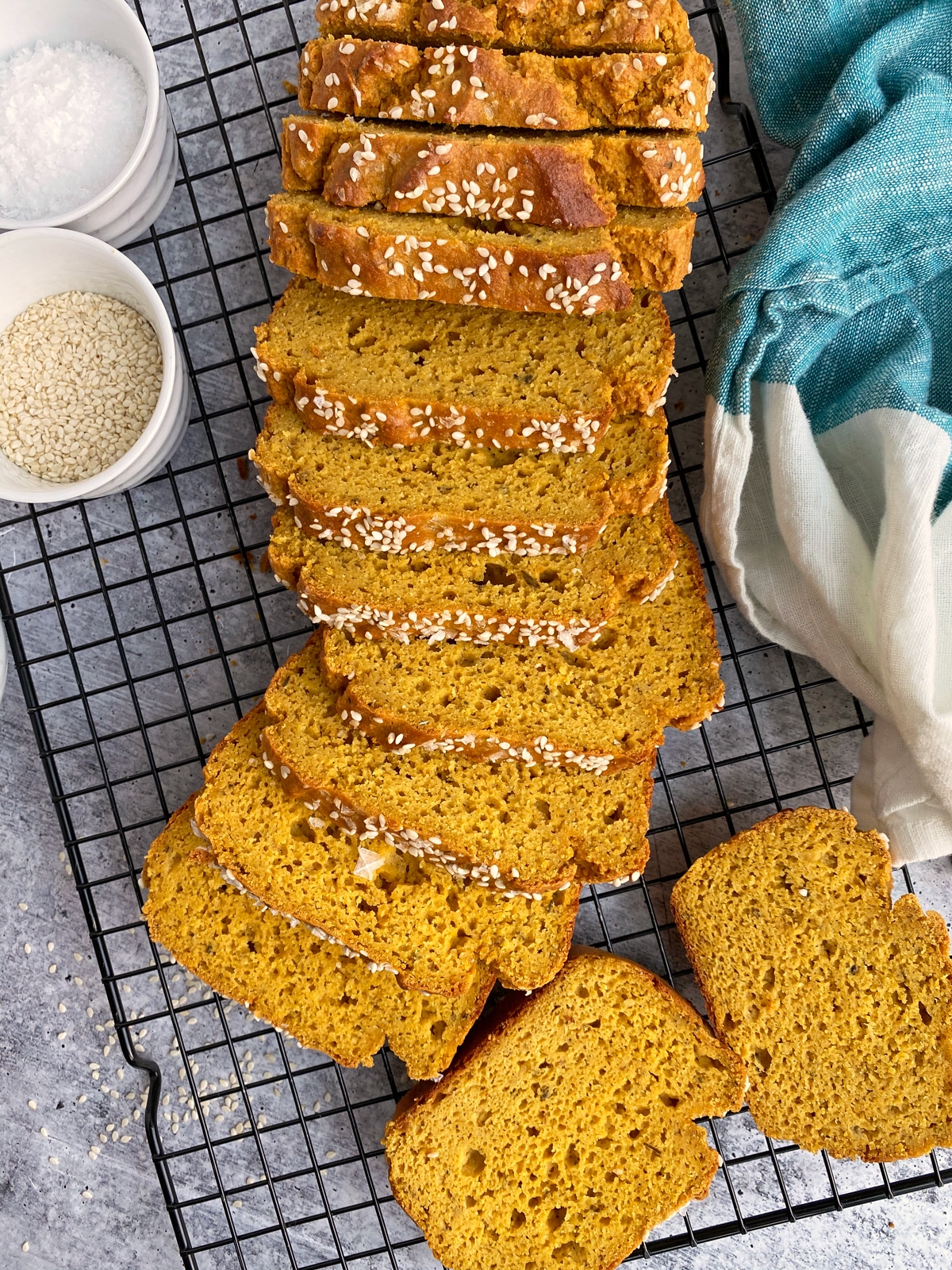 Ingredients in savory butternut squash bread
Here's what you need to make this savory butternut squash bread:
dried Italian seasoning
salt
eggs
olive oil
water
apple cider vinegar
The combination of these ten Paleo ingredients makes a delicious, moist, flavorful loaf of bread.
Ingredient Substitutions
Baking Flours
A combination of squash powder, almond flour and arrowroot starch were used to make this gluten free squash bread. The only substitution that I can guarantee is swapping the arrowroot starch for tapioca flour. (As, those two ingredients are usually interchangeable.)
Seasoning
I used Italian seasoning in the loaf pictured, but I've also tried this bread with dried thyme. Other spices that would work well include: oregano, basil and rosemary. You may use fresh or dried herbs, whatever your preference.
Salt is highly recommended! I used ¾ tsp because I found it to bring out more flavor than just ½ tsp.
Eggs
This recipe has not been tested without eggs. I do not recommend trying an egg substitute since quite a few eggs are required to make this bread. However, if you make an egg-free version please share the results.
Oil
I made this loaf with olive oil, but avocado oil will work too!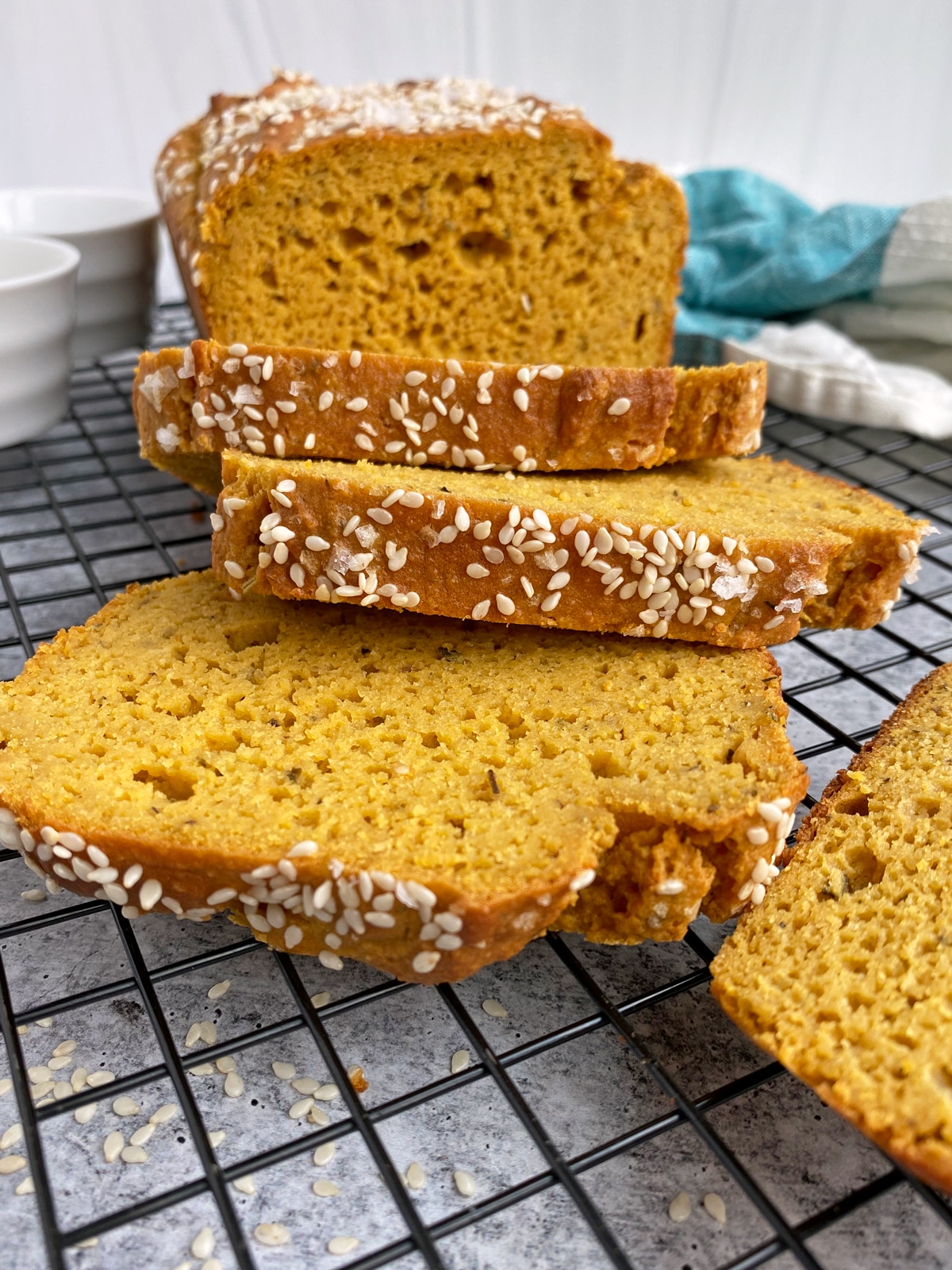 How to make savory butternut squash bread
This quick bread squash recipe is made in a bowl (okay, actually two bowls) and baked in the oven. Since this is a yeast free Paleo bread recipe, it's quick to make and bake!
Here's the step by step process:
First preheat your oven to 350 degrees F.
Make the batter
Next, make the batter. Combine all the dry ingredients in a large mixing bowl and whisk. In a separate, smaller bowl, whisk together all the wet ingredients.
Pour the wet mixture into the dry mixture and stir using a spatula. Once combined, the batter is thick.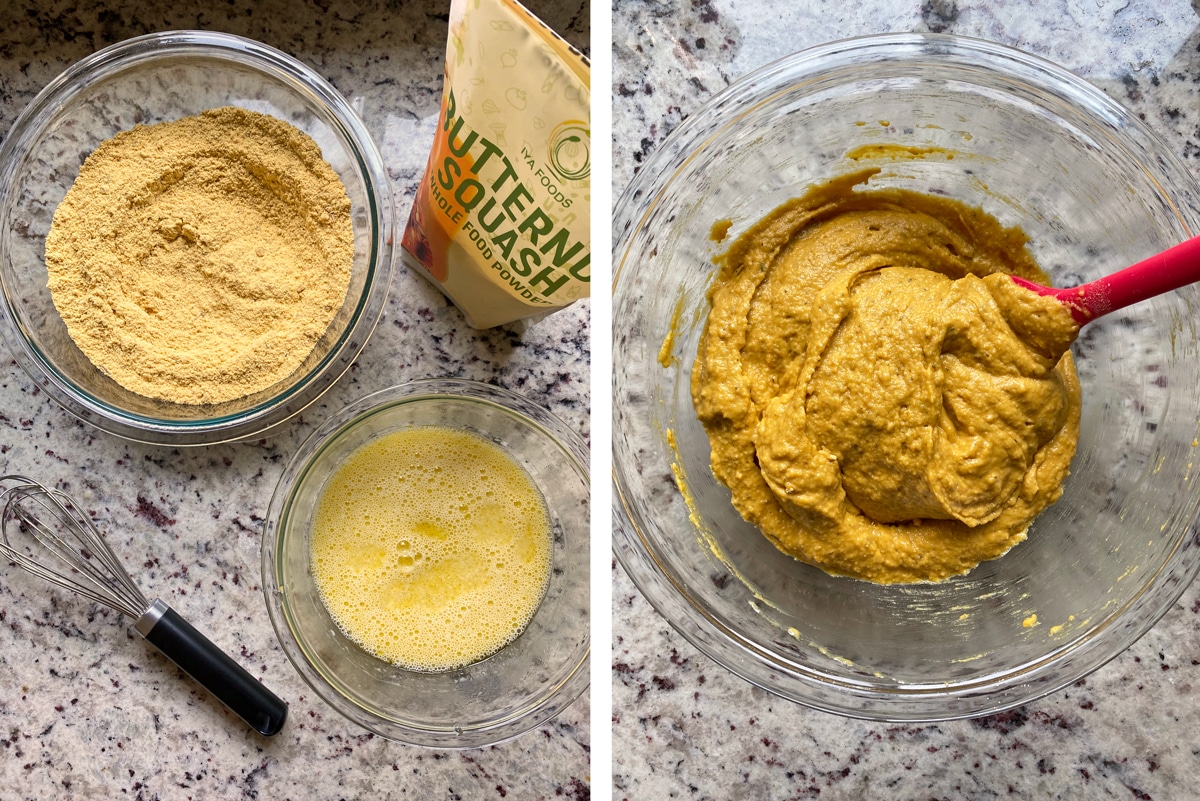 Bake the loaf
After making the batter, pour it into a lined 8" x 4" baking pan. Then, sprinkle the uncooked loaf with sesame seeds and flaked sea salt (totally optional, but gives the loaf more character).
Place the bread in your preheated oven and bake at 350 degrees for 45 minutes. After baking, remove the bread from the oven and cool in the pan for 10 minutes. Then, remove the loaf from the pan and cool to room temperature on a wire cooling rack.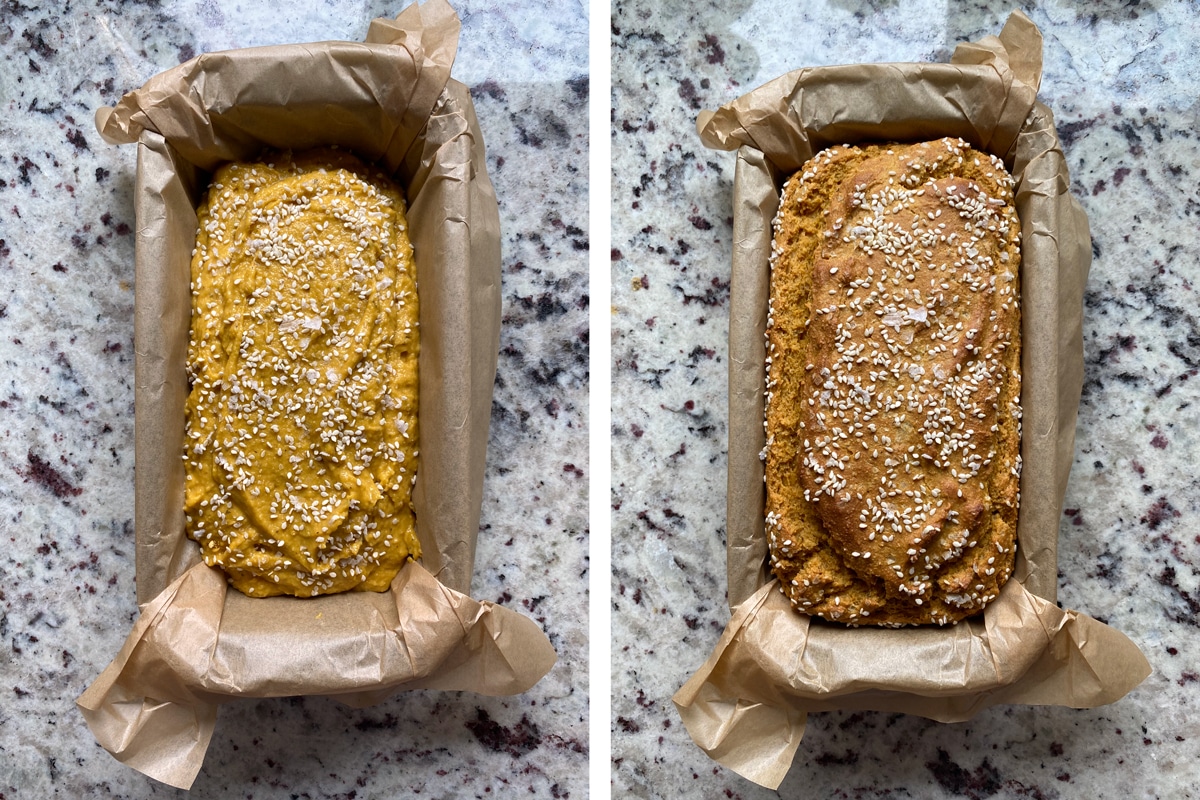 How to store squash bread?
Like most Paleo baked goods, this loaf should be stored in the fridge. You can also slice it and store it in the freezer.
How to eat savory butternut squash bread?
This bread is best sliced and toasted in the oven. I love adding toppings such as: mashed avocado, almond milk cream cheese, hummus (not Paleo) or tahini.
You can also make sandwiches, use the bread as burger buns or dip it into a hot bowl of soup.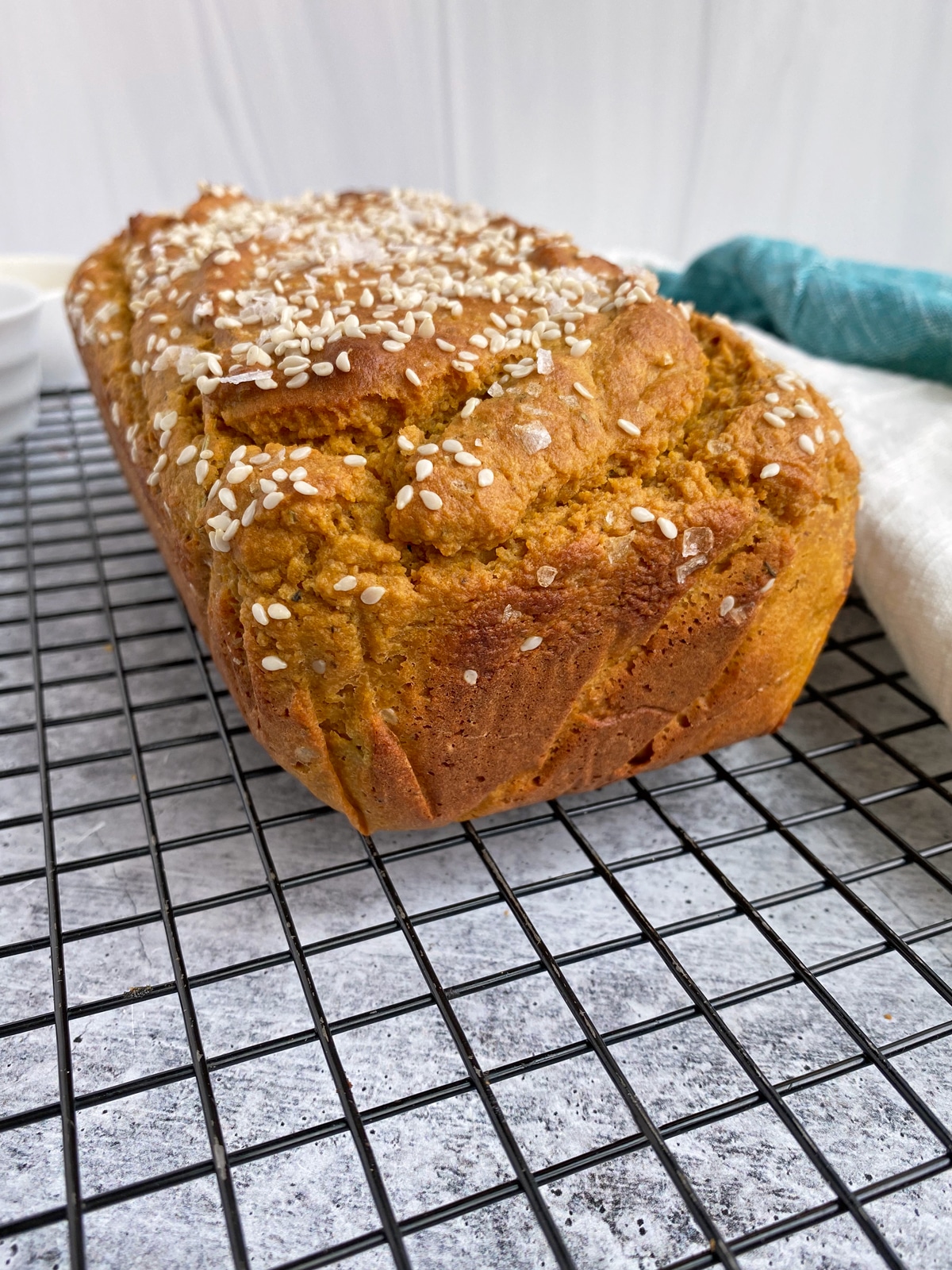 More Paleo Squash Recipes
Squash is such a great fall baking staple! It adds flavor, moisture and nutrients to any baked good. Here are some more Paleo squash recipes to try:
Print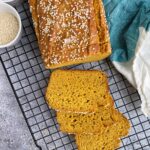 Gluten Free Savory Butternut Squash Bread
Author:

Katie

Prep Time:

10 minutes

Cook Time:

45 minutes

Total Time:

55 minutes

Yield:

8

" x 4" loaf

1

x
---
Description
Gluten free, savory butternut squash bread - perfect for sandwiches, toast or eaten with a bowl of soup.  This loaf is Paleo friendly, grain free, dairy free and unsweetened. 
---
---
Instructions
Preheat oven to 350 degrees F.
In a large mixing bowl, whisk together all dry ingredients: almond flour, squash powder, arrowroot starch, baking powder, seasoning and salt.
In a medium sized mixing bowl, whisk together all wet ingredients: eggs, water, olive oil and apple cider vinegar.
Pour the wet mixture into the dry mixture and stir with a spatula until well combined.
Pour the batter into a parchment lined 8" x 4" baking pan.  Optional: add toppings (I added sesame seeds and flaked sea salt).
Place the uncooked loaf in the oven and bake at 350 degrees for 45 minutes.
Remove from oven, cool 10 minutes in the baking pan, then transfer to a wire cooling rack.
Store in fridge, or cut and store in freezer.
---
Notes
This loaf is best eaten within a few days.  It tastes great sliced and toasted in the oven until crisp.
Keywords: paleo bread, savory bread, butternut squash, squash bread, no added sugar, lunch, dinner, breakfast, breads, fall food