This post contains a collection of my favorite recipes with sunbutter. Everything from chocolate sunbutter donuts to ice cream bars and protein balls. All recipes are paleo friendly and many are vegan and keto.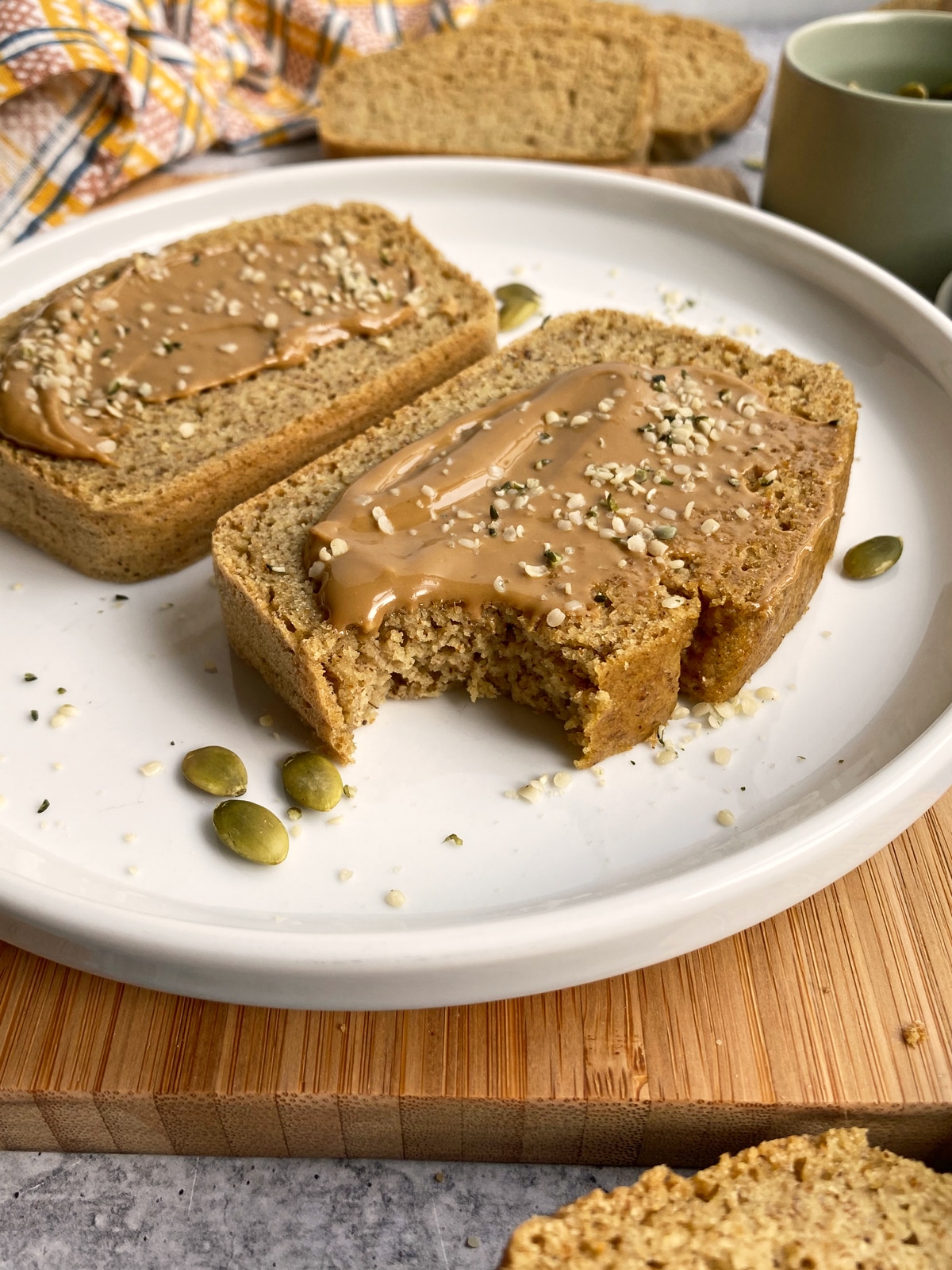 Have you tried Sunbutter, aka sunflower seed butter?
I love using it in my baking from time to time, as it's naturally sweet and nutty in flavor, but completely nut free. Which is great when it comes to creating allergy friendly recipes!
What is Sunbutter?
Sunbutter is basically a seed butter made from finely ground sunflower seeds. The sunflower seeds are often roasted, then ground into a butter and combined with salt and sometimes sugar.
Sunbutter is completely nut free, allergy friendly, gluten free and vegan. It's also paleo friendly, so long as it doesn't contain any added refined sugar or vegetable oils.
I like using the no sugar added SunButter, which is just made with sunflower seeds and salt. Or, the organic SunButter, which is just roasted sunflower seeds (no salt or sugar added).
I make my own homemade sunflower seed butter from time to time, but there are many brands on the market. SunButter is one of my favorites in terms of taste and texture.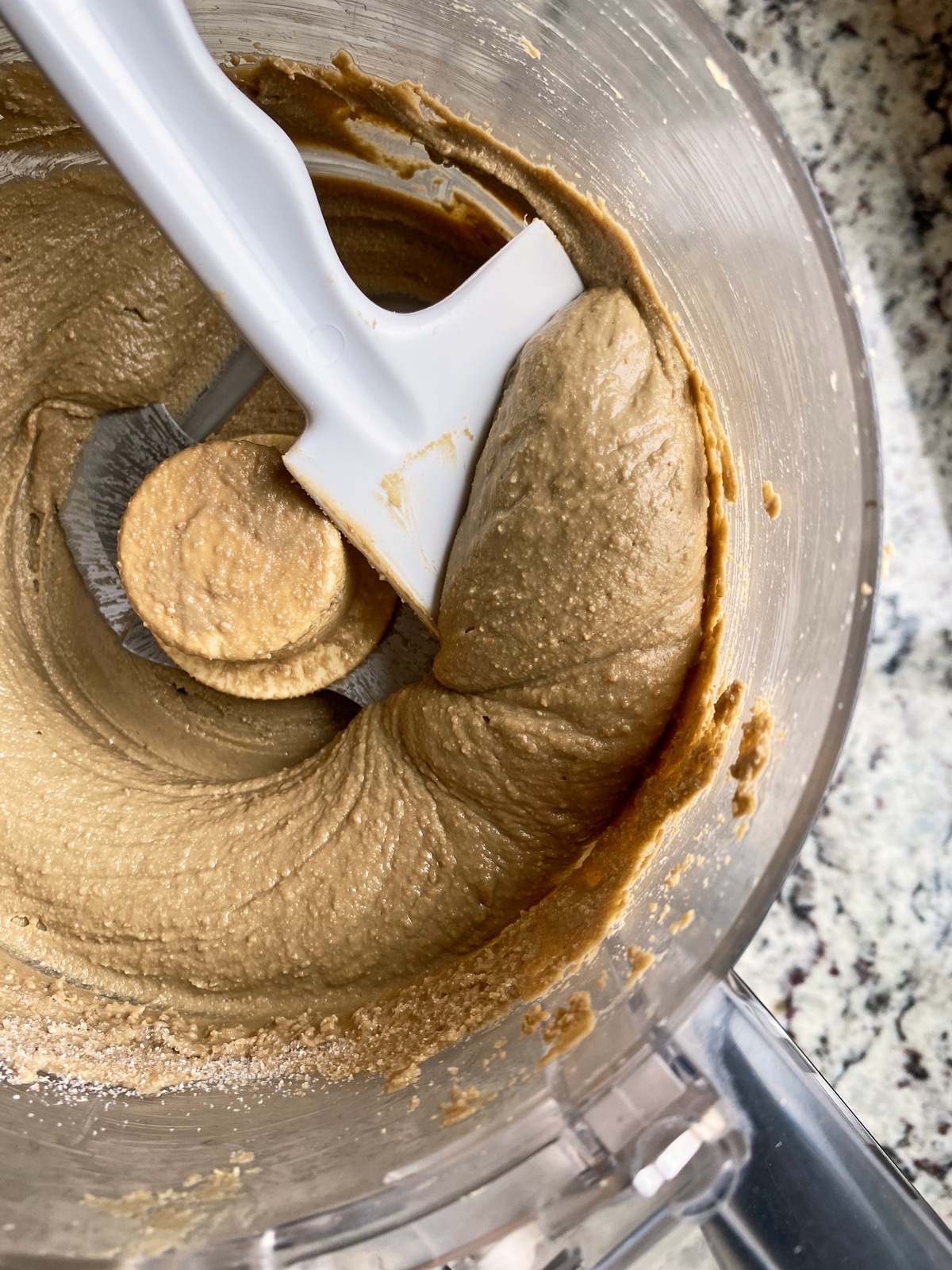 Where to Buy Sunbutter
Sunbutter is available at many grocery stores, near the peanut butter and almond butter. Or, you can purchase it at an online retailer like Amazon.
Healthy Sunbutter Recipes
There are SO many ways to use sunbutter. Add it to smoothies, make a sunbutter and jelly sandwich, use it as a sweet potato toast topping or eat alongside a stack of nut free pancakes.
You can also use sunflower seed butter in many recipes. Sunbutter can be a substitute for basically any recipe that calls for almond butter or peanut butter.
Here are some of my favorite paleo recipes with sunbutter.
Sunbutter Cups Recipe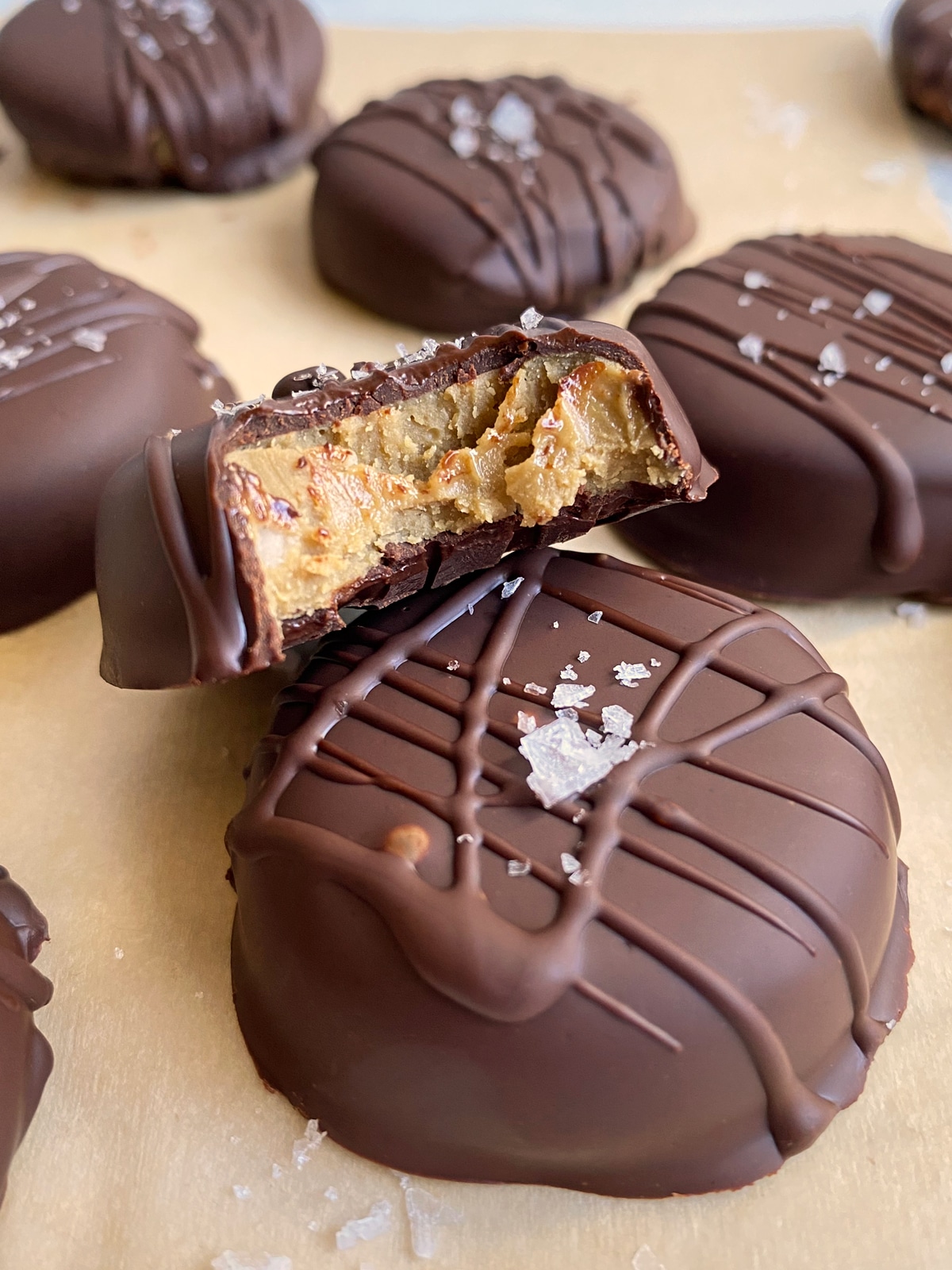 These homemade paleo sunbutter cups are a great low carb dessert option. Their filling is thick and creamy and coated in extra dark chocolate. In addition to being paleo, they are also keto, vegan and free of top allergens (nut free).
Vegan Chocolate Donuts with Sunbutter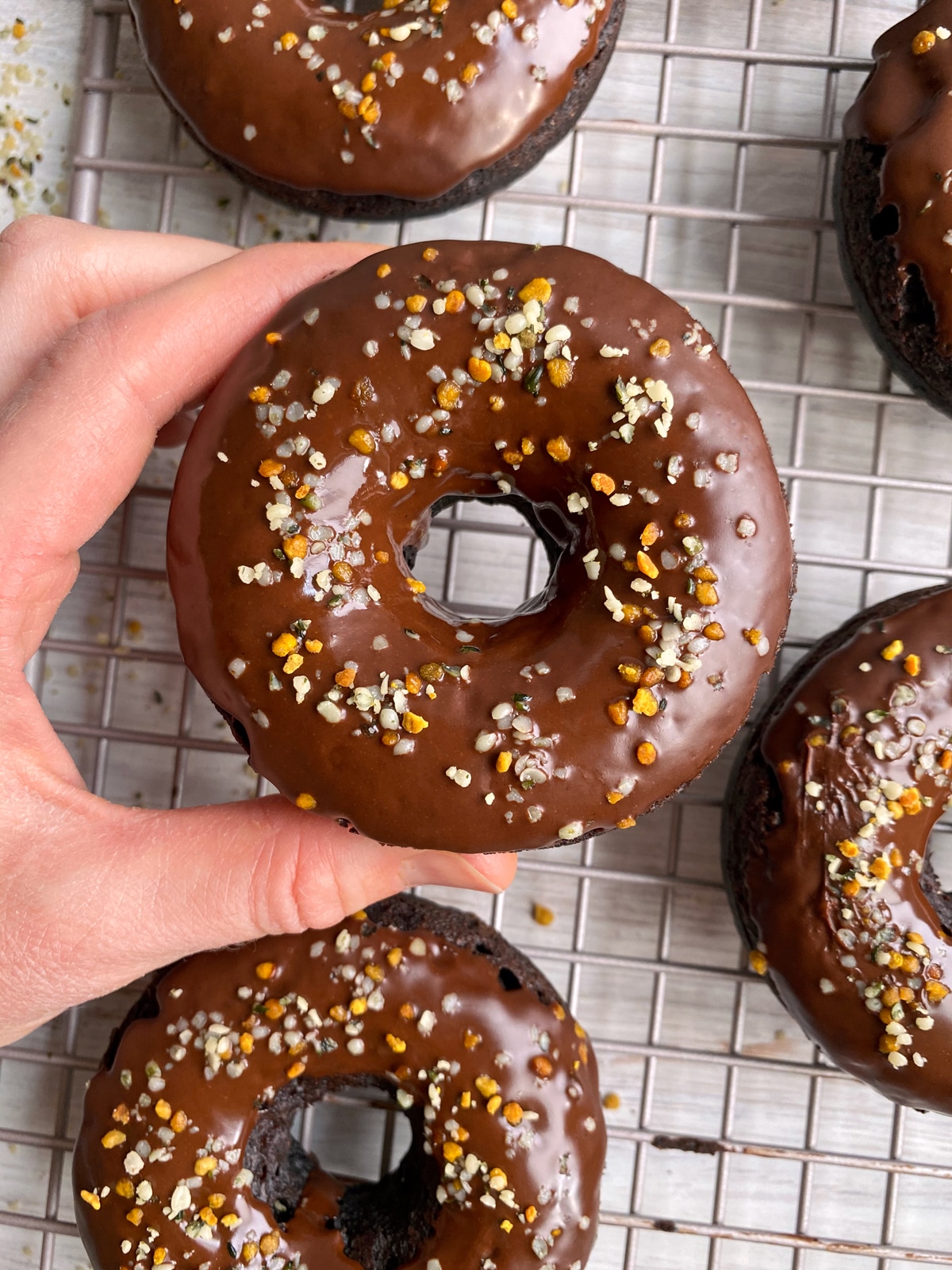 This is one of my favorite donut recipes (my kids love them too)!
These chocolate donuts made with sunbutter are vegan, gluten free and paleo friendly. Bake them in the oven and top with a dark chocolate glaze.
Homemade Tagalong Cookies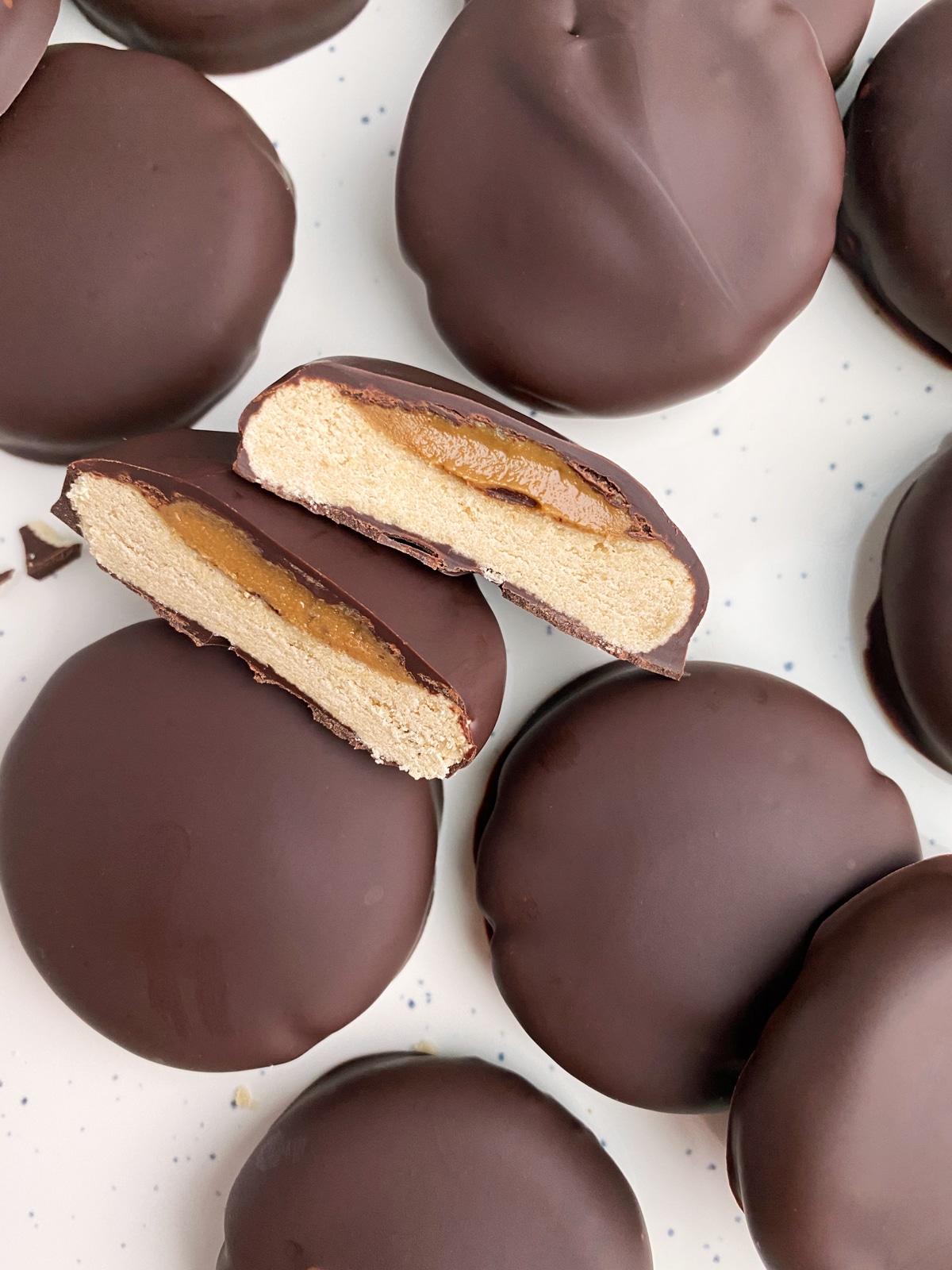 These copycat Tagalong Cookies are amazing! They consist of a crunchy shortbread cookie that's topped with sunflower seed butter and then dipped in dark chocolate. These sunbutter tagalongs are gluten free, paleo and vegan friendly. Easily made keto too!
Banana Protein Balls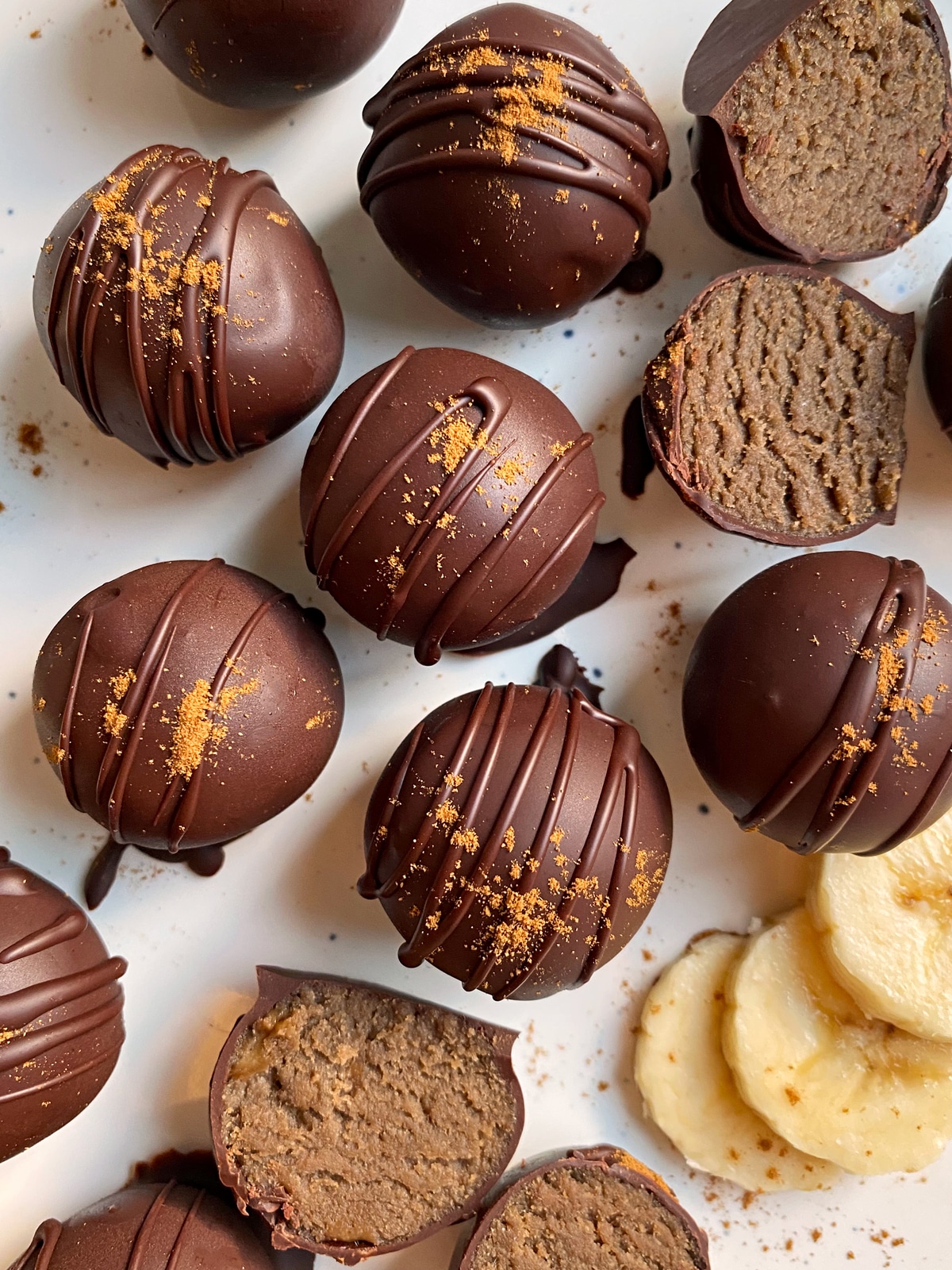 Snack bites and energy balls are one of my favorite things to prep for the week ahead. These sunbutter banana protein balls have a creamy banana protein filling that's coated in dark chocolate. They are paleo, vegan, nut free and only sweetened with banana.
Blueberry Muffins with Sunbutter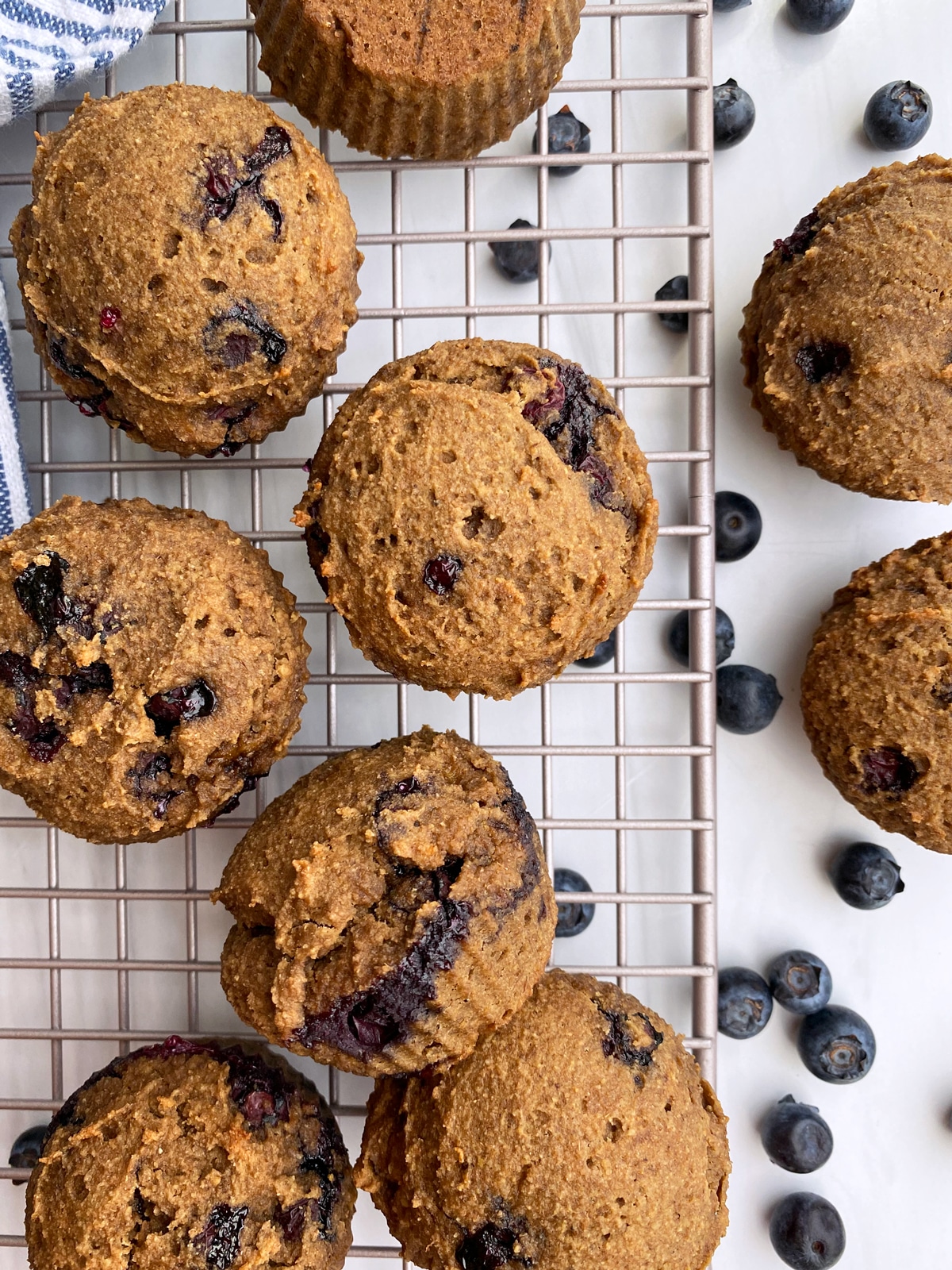 These sunbutter vegan muffins are moist, dense and loaded with fresh blueberries. Not only that, but they're actually healthy!
This blueberry muffin recipe is made with sunflower seed butter, tigernut flour (or almond flour) and only sweetened with bananas and blueberries. They're paleo, vegan and nut free.
Chocolate Collagen Cookies
These chocolate collagen cookies are crisp on the outside, yet chewy on the inside - the ultimate cookie texture. All you need is sunflower seed butter, collagen, cocoa powder monk fruit or coconut sugar and a few other simple ingredients.
In addition, these sunbutter cookies are keto, nut free, grain free, gluten free and higher in protein than your average cookie.
Millionaire Bars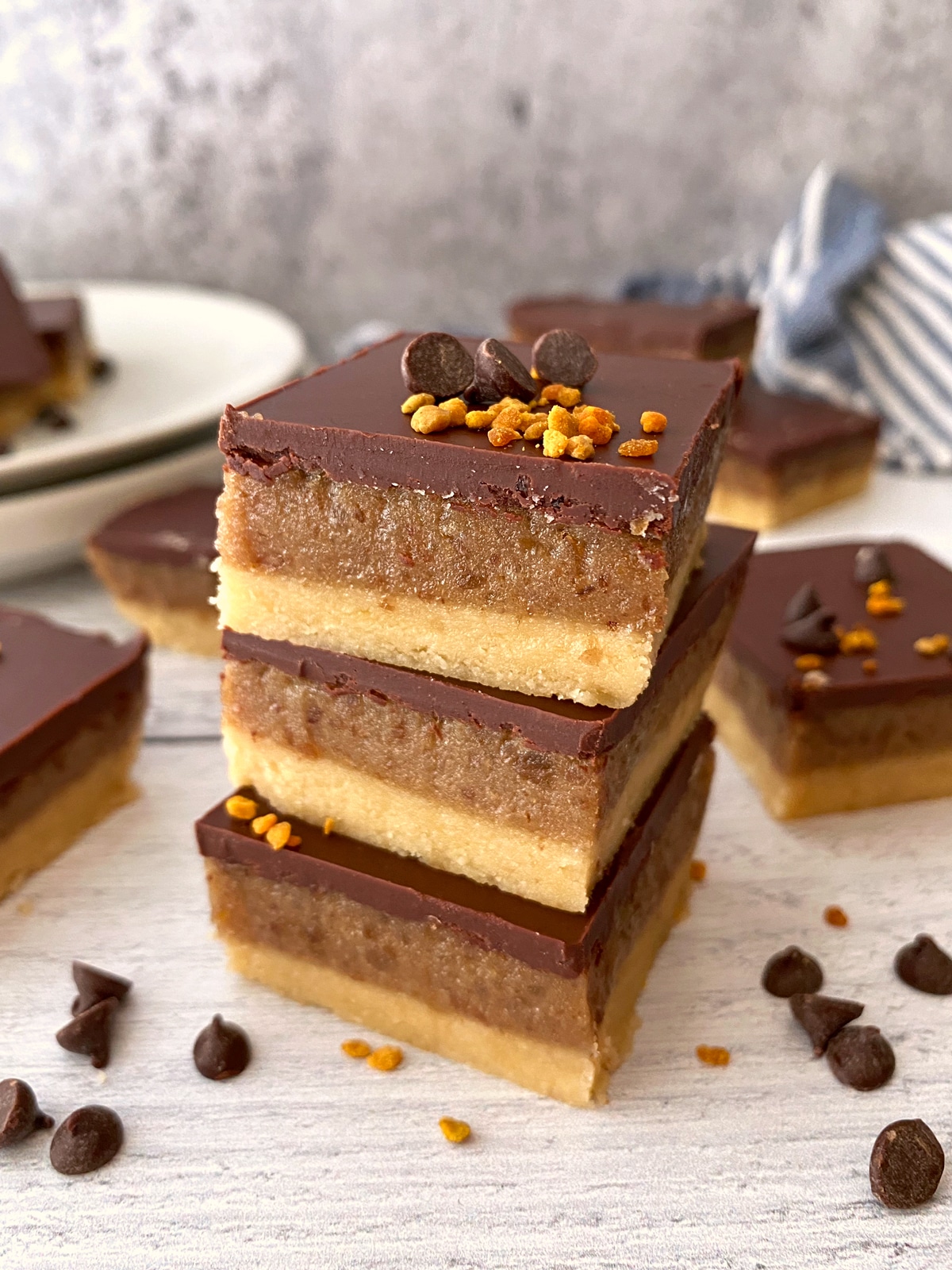 Ever had a Millionaire Bar? If not, this is your sign to make them!
My recipe consists of an almond flour shortbread crust that's topped with a sunbutter date caramel and then finished with a chocolate fudge topping.
These bars are rich, creamy, no bake and absolutely delicious! Not to mention paleo, vegan and gluten free.
Ice Cream Bars with Sunbutter
These sunbutter ice cream bars are a delicious, dairy free and nut free treat! They are filled with a homemade ice cream made of sunflower seed butter and coconut cream and dipped in dark chocolate. Crunchy, creamy, drool-worthy and a kid favorite!
Cereal Granola Bars with Sunbutter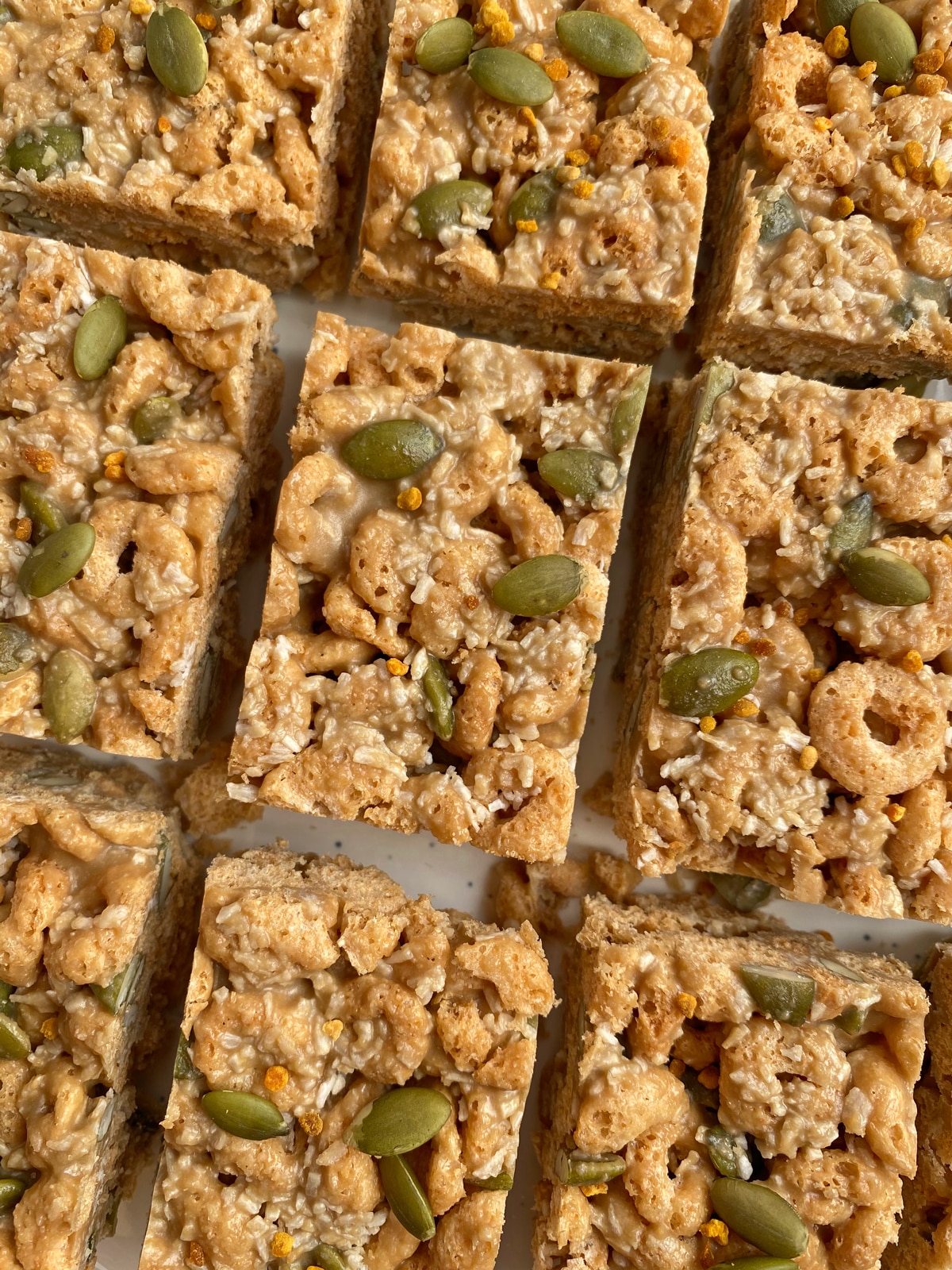 These cereal granola bars are another great recipe with sunbutter. They're made with grain free cereal, lightly sweetened with honey and filled with shredded coconut and pumpkin seeds. This is a great paleo snack recipe - kid friendly and easy to make (no bake)!
Dark Chocolate Protein Bars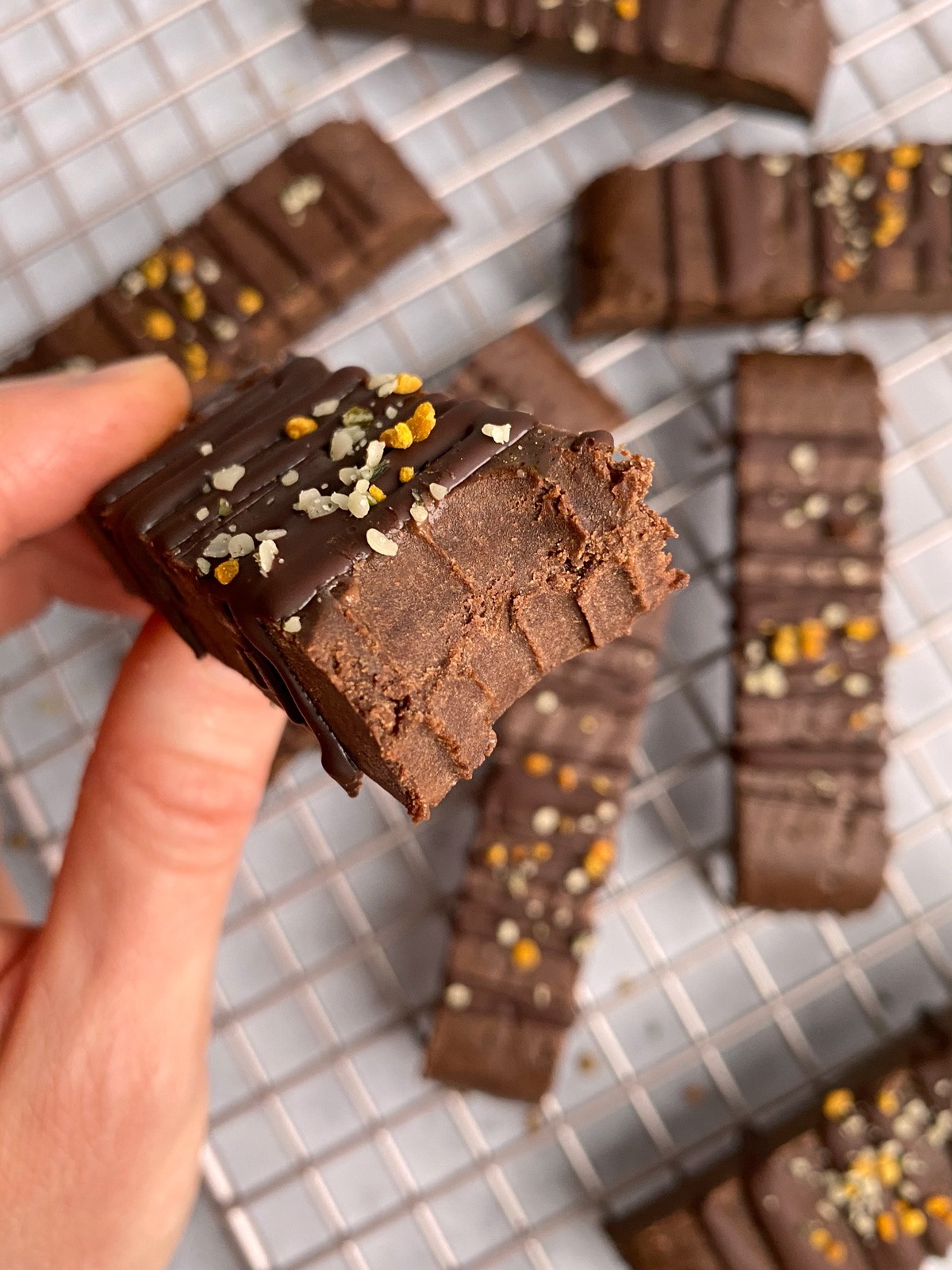 These dark chocolate protein bars are paleo and vegan friendly. You need chocolate pea protein, cacao powder, sunflower seed butter and maple syrup to make them. This sunbutter protein bar recipe is perfect for breakfast, snack or even dessert!
Healthy Kit Kat Recipe
This healthy Kit Kat recipe is the perfect crispy, crunchy, melt in your mouth treat. It's a copycat recipe of the original Kit Kat candy bar, but much healthier. My recipe is gluten free, dairy free, vegan and paleo friendly.
These sunbutter Kit Kats consist of crunchy almond flour cookies that are sandwiched between a chocolate-sunbutter fudge and dipped in dark chocolate.